American Optimism Lowest Since 1979
---
Surprise!
(CBS DC) Fewer than four-in-10 Americans (39 percent) rate the US in a positive manner — the most negative feedback the country has produced since 1979.

A new Gallup poll finds that Americans are as negative about the country's prospects as they have been in more than three decades. Americans are more upbeat in their predictions of where the U.S. will be in five years (48 percent positive), but this is the lowest rating since an August 1979 Gallup poll was conducted.

The negativity about the current state of the US has a politically partisan split — Republicans stated that the country's best days have already passed and Democrats say the best days have not happened yet. Seventy-five percent of Democrats gave positive reviews of how the nation will be five years from now, but only 15 percent of Republicans were positive — a 60 percent partisan gap.
Independents break 48% for 5 years from now, and 39% now.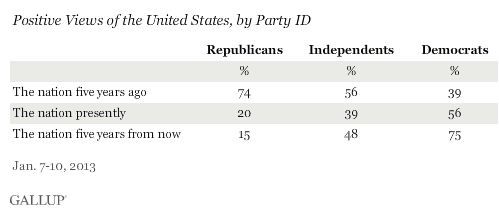 Democrats are apparently enthused that 5 years from now they'll still be unemployed and living off the government teet, as the economy stagnates much like Europe and America's debt is in the $20 trillion range.
Crossed at Pirate's Cove. Follow me on Twitter @WilliamTeach.
Related Articles
I read this article in The Telegraph the other day about a 22 week old fetus, an unborn baby, who
(I know William already posted the story, but allow me a second to rant…) Get ready folks because this is
The Occupy Whatever movement — if it can be called a movement — is at its heart a hate-America movement.