People Still Think Obama's Signature Legislation, ObamaCare, Is Terrible Legislation
---
Nancy Pelosi said we had to pass the bill to know what's in it. Democrats did just that, by offering bribes and using cheap parliamentary tricks, despite massive outcry over the legislation, and now that we know what's in it, it hasn't gotten more popular. People are not resigned to accepting it. And the polls prove just how bad the American People think it is
(Politico) Most Americans think President Barack Obama's health care reform law will harm taxpayers and businesses, while helping those directly threatened by a lack of health care, according to a Gallup poll released Monday.

Sixty percent believe the law will make things worse for taxpayers, 57 percent think it will do so for businesses, 51 percent think it will do so for doctors and 46 percent think people with health insurance will be worse off.

For those without health insurance, 59 percent think the law will help, with just under a third thinking it will hurt. Fifty-five percent think the law will benefit those who get sick, and 34 percent think it will harm them. The public is split on whether hospitals will benefit or suffer.
There's a little sliver of sunshine in the poll for Team Obama in that last paragraph. Yes, it could help those who get sick, because they cannot be denied purchasing health insurance when they get sick. And they cannot be dropped by their insurance carriers when they get sick (a notion that I heartedly agree with). Overall, this is what the poll looks like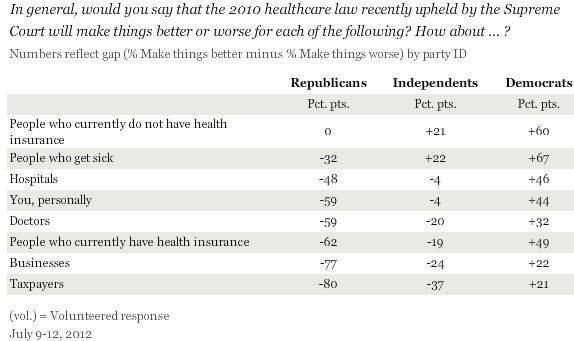 We could have assumed easily that Democrats would respond positively and Republicans would respond negatively in all categories. The ones to look at are the Independent voters: in 6 of the 8 categories, they respond negatively. That doesn't give Team Obama a lot of room for campaigning on his signature achievement, eh?
Crossed at Pirate's Cove. Follow me on Twitter @WilliamTeach.
Related Articles
"I'm hoping Obama's endorsement will do for the Ground Zero mosque what it did for Corzine, Deeds, Coakley, & Specter."
By: Terresa Monroe-Hamilton NoisyRoom.net AP Photo In fact, he's your enemy and always has been. The rhetoric on both sides
Quite obviously, there has to be a bit of narcissism in any person who wants to run for the presidency.