Democrats Freak Out Over Bumper Sticker Depicting Obama Being Hit By Train
---
Did I mention that the bumper sticker appears to be bloody?
A top state Republican is taking offense at a Democratic bumper sticker that he claims shows a train slamming into Governor-elect Scott Walker's head in a bloody crash.

The bumper sticker is available on the Wisconsin Democratic Party's Web site. It depicts a train hitting Walker's head with jagged red impact marks flying out. The sticker is emblazoned with the words "High Speed Fail."

Rep. Robin Vos (R-Racine) said the red marks imply blood. He said the sticker is indecent and Democrats should stop offering it.

Democrats are outraged that Walker, a Republican, refused federal aid for high-speed rail between Madison and Milwaukee. Democratic Party spokesman Graeme Zielinski called Vos a partisan hack who clearly understands political rhetoric. He says Vos' complaints are laughable.
Oh, wait, sorry, I meant that the train was hitting a Republican's head, and the sticker is being not only hosted on the Wisconsin Democrat Party's website, but being offered for free. Obviously, were this a Democrat on the bumper sticker, the national media would be in the act of creating an outrageously outraged firestorm, calling for heads to roll, huffing and puffing in high dudgeon.
Question for Wisconsin Dems: why, exactly, do you need a high speed train from Madison to Milwaukee? Are there really that many commuters who drive an hour and a half or more daily (I wonder how long it takes in all that snow?) Or is it that you just want yet another Big Government project that will give low paying, low brainpower jobs to the people who vote for you? Or that you simply want to spend someone else's money for the hell of it?
Screen capture for when Dems scrub their website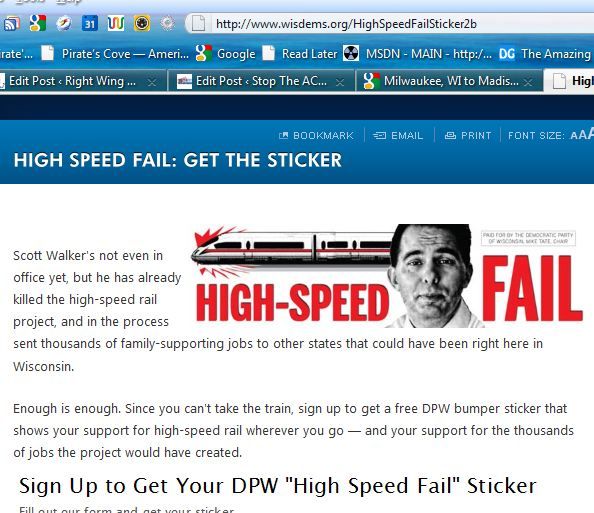 Related Articles
Stimulating the economy isn't nearly as important to President Obama as putting federal dollars into the pockets of his union
I confess your honor! : Team Obama finally said 'uncle' and admitted that they knew the facts surrounding Joe Soptic's disgraceful
In a way, Helvetica is the font of liberal fascism; it's certainly the font of corporatism. To borrow from one of the concluding memes of Jonah Goldberg's Liberal Fascism, it's the softer authoritarian nanny state of Brave New World, not the oppressiveness militarism of 1984.