Obama's Drilling Moratorium a Sop to Unions?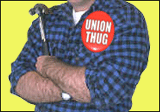 The president of the Seafarers International Union's Gulf Coast District, Dean Corgey, recently penned an op ed in which he noted an interesting fact: deepwater oil drilling rigs are "100 percent non-union." With this in mind one of union bought president Barack Obama's major decisions — in fact, one of his few actual decisions — in the BP Oil mess was to shut down the very oil rigs that unions have been trying to organize for decades with a six-month moratorium.
Naturally, as is evident by Corgey's op ed, unions are claiming the whole BP incident is a result of non-union workers and with Obama trying to shut down these platforms he lends credence to the union claims. Unions are sure to try and use the moratorium as a reason to convince skeptics against organizing workers of deepwater rigs.
But unions or no, Obama's moratorium will potentially cause 120,000 jobs to be lost in the Gulf area just when the economy of the Gulf states is at its worst.
Because of the economic hit, several Texas congressmen immediately introduced a bill to lift the offshore oil drilling moratorium as a jobs savings measure. Representative Pete Olson (R, TX) and other area congressmen joined together to prevent the job loss.
In introducing the bill, Olson and Vitter both pointed to the fact that offshore drilling provides 30 percent of all U.S. oil production; is the second largest source of revenue to the federal government at $6 billion annually and has a direct employment of 150,000 individuals.
Olson made a salient point in his remarks to the press. "We don't shut down the entire airline industry while NTSB investigates a plane crash and we shouldn't do the equivalent to the energy industry," he said.
In the meantime, federal judge Martin L.C. Feldman issued an injunction to block Obama's moratorium on offshore drilling. Judge Feldman held that Obama's administration failed to prove that the offshore drilling poses an imminent danger. "…the federal government has been pressed by what happened on the Deepwater Horizon," Feldman said, "into an otherwise sweeping confirmation that all Gulf deepwater drilling activities put us all in a universal threat of irreparable harm."
Obama's administration even purposefully misconstrued what its own impaneled experts said on the spill. Secretary of the Interior Ken Salazar falsely implied that the panel of experts that Obama gathered to advise him on the Deepwater Horizon spill supported the six-moth moratorium.
The experts sent a letter to Louisiana Governor Bobby Jindal vociferously denying that they supported the moratorium and that the moratorium policy was instituted after they ceased their own deliberations and was never part of their discussions.
In part this panel of experts have said that, "a blanket moratorium is not the answer. It will not measurably reduce risk further and it will have a lasting impact on the nation's economy which may be greater than that of the oil spill. We do not believe punishing the innocent is the right thing to do."
The Obama administration has ignored its own experts, flouted the desires of congress and put in place policies that will hurt the economy of the Gulf states even worse than it already is. One cannot see the logic in any of Obama's moves unless one takes into account the interests of unions that want to expand into the oil industry, unions that are using the whole incident as a doomsday, scare tactic to force their will on the Gulf.
Warner Todd Huston
Warner Todd Huston is a Chicago-based freelance writer, has been writing opinion editorials and social criticism since early 2001 and is featured on many websites such as Andrew Breitbart's BigGovernment.com, BigJournalsim.com and all Breitbart News' other sites, RightWingNews.com, CanadaFreePress.com, and many, many others. Additionally, he has been a frequent guest on talk-radio programs across the country to discuss his opinion editorials and current events as well as appearing on TV networks such as CNN, Fox News, Fox Business Network, and various Chicago-based news programs. He has also written for several history magazines and appears in the book "Americans on Politics, Policy and Pop Culture" which can be purchased on amazon.com. He is also the owner and operator of PubliusForum.com. Feel free to contact him with any comments or questions : EMAIL Warner Todd Huston and follow him on Twitter, on Google Plus , and Facebook.
Trending on RightWingNews.com
Leave a Comment