Deranged Envirowackos Demonstrate At Oil Exec's House
How deranged? This deranged
(Washington Free Beacon) Masked protesters carrying torches and threatening organized violence protested outside the home of an executive at a major oil pipeline company last week.

Eight environmental activists gathered on the lawn of Mark Maki, a member of the Enbridge Energy Company's board of directors and president of Enbridge Energy Management, to protest the arrests of three anti-pipeline activists last year.

The protesters, who brandished torches for a photo posted online, held a sign warning, "solidarity means attack" and "we will shut you down."
This occurred in Houston, Texas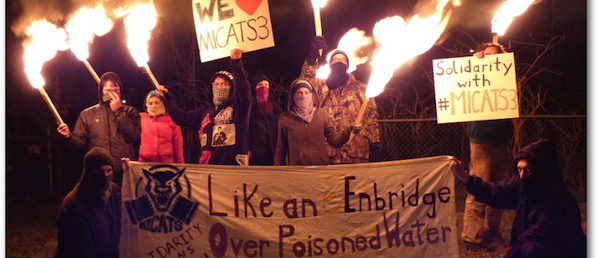 "Tell the rest of the [Enbridge] board they can expect visits," one protester at Maki's house said.
I'm not sure why the police weren't called and these nuts arrested: this is threatening behavior with a threat of violence. Which seems normal for so many Leftists/enviros/Warmists.
Crossed at Pirate's Cove. Follow me on Twitter @WilliamTeach.
Trending on RightWingNews.com
Sorry. No data so far.
Leave a Comment