Earth Hour Wackos Use North Korean Dictator As Model Warmist
by William Teach | March 11, 2013 10:09 am
We're fast approaching yet another Earth Hour, where climate astrologers turn their lights out for a whopping 60 minutes (out of 525,949 a year), on March 23rd. These tend to be the same people who were freaking out over enforced earth hours after storms like Superstorm Sandy, the Derecho, and others. One would think they would be happy about reducing their "carbon footprint".
Well, here's some crazies who are supporting the World Wildlife Foundation's (weird, they should spend time protecting animals, eh?) Earth Hour (via No Frakking Consensus[1])
(Do The Green Thing About Page[2]) Do The Green Thing is an environmental charity that uses Creativity vs Climate Change to inspire people to be more sustainable.

In the five years since we launched, our films, posters, podcasts and products have reached over 11m people in 209 countries/territories and inspired our subscribers to save 2.5 times more CO2 than they otherwise would have.
How about if they simply went "carbon neutral"? Oh, wait, then they'd have to significantly reduce their own lifestyle.
Our latest campaign, in support of the WWF's Earth Hour, involves creating 23 Posters with world-famous designers, artists and creatives, and publishing one a day from March 1st until Earth Hour on the 23rd.

Each poster inspires people to do one of the sustainable actions chosen by Do The Green Thing's nine environmental advisors. And it does so using world-class creativity, which we believe is a brilliantly effective tool to seduce, provoke and persuade people to change their behavior for the better.
As Donna Laframboise at No Frakking Consensus points out
Changing other people's behaviour. That's what these folks are about. You and I are the unwashed, uninformed masses. We behave the way we do not because we've considered our options and have chosen the path that makes the most sense.

We aren't intelligent beings making intelligent decisions. Rather, we're eco-sinners. And the DoTheGreenThing folks are missionaries spreading the gospel.
In other words, these people are Progressives, ie, "nice fascists", as Jonah Goldberg termed them in his book "Liberal Fascism[3]". They want Everyone Else to change their behavior, by the barrel of Government Law, Decree, and Regulation if necessary. But not their own. Websites aren't exactly carbon neutral.
Anyhow, Donna tears apart the much of the Do The Green Thing talking points and posters. But, here's one of the 23[4]: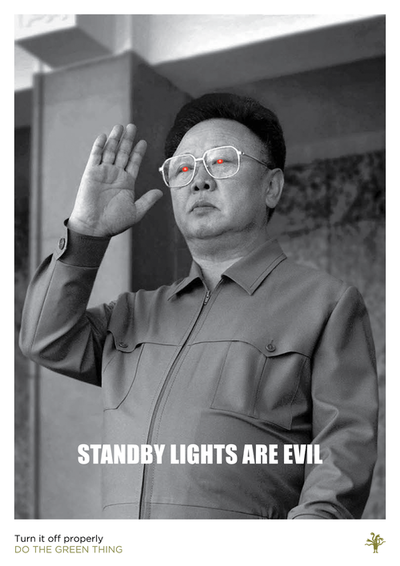 Evil by Joe Stephenson

Convincing people to turn things off properly was Joe Stephenson's mission with this poster.

The Pentagram designer says, "The standby light embodies everything that's wrong with the world: rather than walking two steps to turn the telly off properly, we just leave it on standby, sucking up electricity and driving up our energy bills. So I wanted to demonize those little red lights, by making everyone think of Kim Jong Il whenever they see one."
It's not the brutal dictator that's evil, it's refusing to unplug your appliances when not in use (vampire electricity). I understand his point, but, still, using Kim Jong Il is probably not the wisest, considering what North Korea looks like at night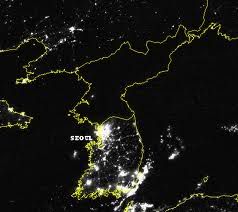 Then again, that's what Warmists want the world to look like at all hours….well, not their own residence, of course. Just everyone else's. And Earth Hour is simply a means, per the WWF, to "signal concern" over hotcoldwetdry. But refuse to really do anything within their own lives.
Crossed at Pirate's Cove[5]. Follow me on Twitter @WilliamTeach[6].
Endnotes:
No Frakking Consensus: http://nofrakkingconsensus.com/2013/03/10/earth-hour-smog-kim-jong-il/
Do The Green Thing About Page: http://dothegreenthing.tumblr.com/about
Liberal Fascism: http://www.amazon.com/Liberal-Fascism-American-Mussolini-Politics/dp/0385511841/ref=sr_1_1?ie=UTF8&qid=1363010150&sr=8-1&keywords=liberal+fascism
here's one of the 23: http://dothegreenthing.tumblr.com/post/44847500629/joestephenson
Pirate's Cove: http://www.thepiratescove.us/
@WilliamTeach: http://twitter.com/WilliamTeach
Source URL: https://rightwingnews.com/climate-change/earth-hour-wackos-use-north-korean-dictator-as-model-warmist/
---