Moving on to Part Two of Our Wisconsin for Cruz Initiative.
by Lloyd Marcus | April 2, 2016 9:21 am
Well folks, it has been quite an exciting, fun, grueling and productive trip campaigning for Cruz up here in Wisconsin with our Conservative Campaign Committee team.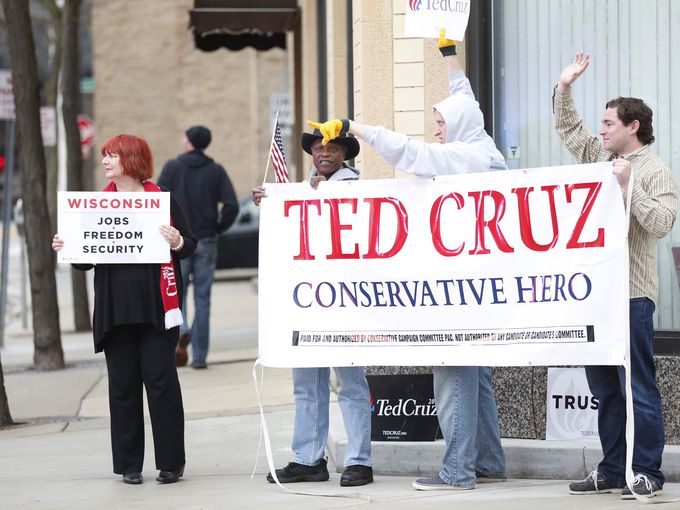 [1]
Along with our other campaign initiatives, our team has attended Cruz events and sign-waved in Rothschild, Wausau, Madison and Fond Du Lac. Carly Fiorina and Heidi Cruz hosted events separate from Ted at which we stumped for Cruz before their arrival. These are two brilliant classy women folks. At the "Women for Cruz" event in Madison, the audience erupted in applause when the emcee said Heidi would make a great First Lady. [2]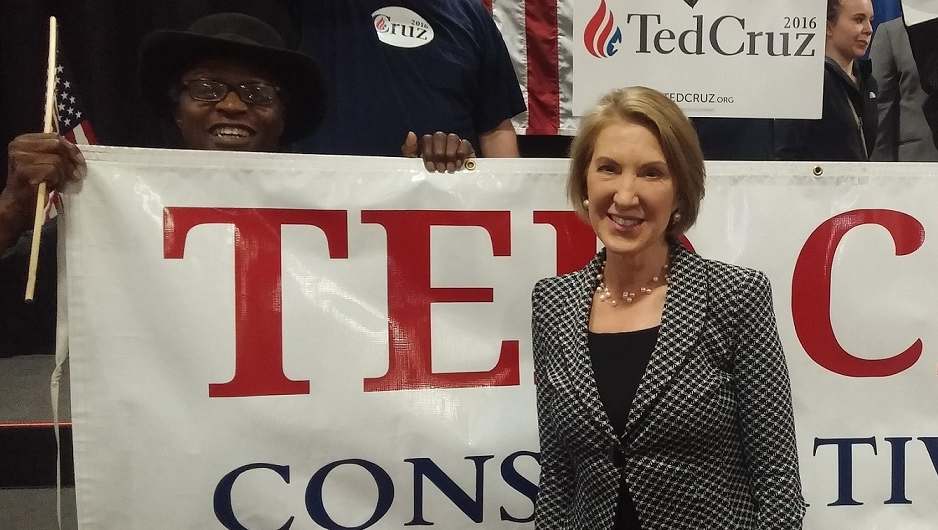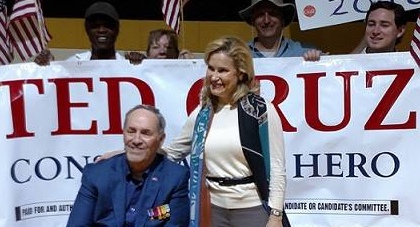 [3]
Latest polling has Cruz with a 10 point lead in Wisconsin[4]. Praise God!
Here's a little insider behind the scenes info folks. Our team has noticed the warm vibe comfortable-fit between the Cruz family and Carly. At the "Women for Cruz" event, one of Cruz's daughters came from back stage holding Carly's hand. Once Carly was seated, Cruz's daughter wanted to sit on her lap, but the event was about to begin.
Just a little funny side note: The same way my grandmother obnoxiously bragged about my 87 year old dad's achievements, Dad brags about me. In response to Cruz leading by 10 points, Dad said, "Boy, Cruz needs to thank you personally!" Our team was seated on the front row at the "Women for Cruz" event. Afterwards, Cruz went down the line shaking hands. Cruz shook my hand, looked me in the eye and said, "Thank you for everything you are doing." Dad will be blown away, bragging about how tight his son is with Ted Cruz.
Campaigning in Wisconsin for Cruz has been extremely successful. However, Lulu, our Phone-From-Home czar says we still need more volunteers. Please contact Lulu to make phone calls folks. To volunteer for our Phone From Home program, simply send an email (including your name) to: [email protected]
As I said, we have been in several Wisconsin cities waving "Ted Cruz" signs on busy street corners. Tuesday is election day which means we are getting down to the wire. Sign waving is effective. My wife Mary and I live in Florida. She hates cold weather. Yesterday, we sign waved in freezing rain which turned to snow. Mary hung in there holding our famous, "Ted Cruz: Conservative Hero" banner for as long as she could. Cruz should thank her personally.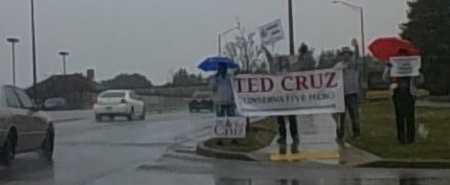 [5]

Our team had a chuckle regarding our "Ted Cruz: Conservative Hero" banner. Beginning in Iowa, we have followed Cruz state-to-state displaying it on street corners and at Cruz rallies. We wondered if Cruz's team realizes we are the same people taking our banner state-to-state or do they think we have people in numerous states displaying numerous banners that read, "Ted Cruz: Conservative Hero".
Mary got an email from our pet/house sitter. She said all is well on the home front in Florida. Our two parakeets, two cockatiels and Sammy our greyhound are doing fine. Speaking of Sammy, he is a retired racer that Mary rescued six years ago. His broken leg was in a cast. I visited the dog races in Daytona Beach for the first time a month ago. Our Sammy is huge, compared to the greyhounds I saw in the race. Sammy is the most gentle people-contact-loving dog in the world. Every evening after eating his dinner, Sammy spontaneously runs laps around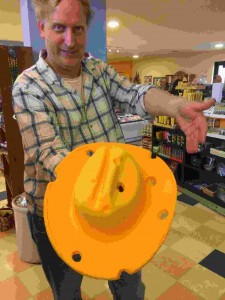 [6]our back yard.
Anyway, our Wisconsin adventure for Cruz has been a hoot. But, it is not over. That was Part One of our CCC Cruz initiative. Today, we are packing to leave our hotel to begin Part Two. We are traveling to campaign in Milwaukee and Southern Wisconsin.
Always trying to get into the local swing of things, fellow CCC team members tried to talk me into wearing a Wisconsin cheese cowboy hat. No thanks, my world famous Lloyd hat is just fine.
Lloyd Marcus[7], The Unhyphenated American
Chairman: The Conservative Campaign Committee[8]
LloydMarcus.com[9]
Endnotes:
[Image]: http://www.lloydmarcus.com/wp-content/uploads/2016/03/Ted-Cruz-Wisconsin-Fond-du-Loc-CCC-Banner.jpg
great First Lady. : http://bit.ly/1VVc1nT
[Image]: http://www.lloydmarcus.com/wp-content/uploads/2016/04/Ted-Cruz-Heidi-NC-Rally-CROPPED.jpg
10 point lead in Wisconsin: http://bit.ly/1MZFuWG
[Image]: http://www.lloydmarcus.com/wp-content/uploads/2016/04/Ted-Cruz-Wisc-sign-wave-in-Snow.jpg
[Image]: http://www.lloydmarcus.com/wp-content/uploads/2016/04/Ted-Cruz-Wisconsin-Cheese-hat.jpg
Lloyd Marcus: http://LloydMarcus.com/
The Conservative Campaign Committee: http://conservativecampaign.org
LloydMarcus.com: http://LloydMarcus.com/