Is it American to be Forced Into a Union? In Obama's America it is!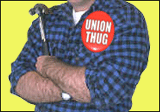 Welcome to Obama's America where you are forced to become a union member even if you had no idea you were being inducted into one. In fact, in Obama's America you won't even know you are IN a union until you notice union dues are being withheld from your checks.
This is the case in Michigan where Sherry Loar and Dawn Ives work out of their home talking care of children for low-income families. One Friday the pair realized that union dues were being withheld from the checks they receive from the state for the subsidized daycare they perform for local families.
As it happens, neither woman voted to join a union nor even knew that they'd be forcefully inducted into one. They didn't even know their job had a union.
"It doesn't seem right," said Ms. Loar, who wrote the governor twice for an explanation – and got none.

"I can't opt out, because I never opted in," she said, adding that she isn't necessarily anti-union.
So what happened? No less than stealth unionization. As in California, compliant, left-wing, union-bought politicians have sneaked rules through the state legislature that automatically unionizes thousands of Michigan home child care workers like Loar and Ives. Naturally, none of these workers have even been made aware that they will be forced to pay dues to a union they'd never heard of, nor do such workers have to be told about the unionization. They will just suddenly discover that their money is being stolen by the state and given to union thugs.
At least someone is paying attention, though. The Mackinac Center Legal Foundation, a free-market group, is suing the state over this theft of income claiming that workers like Loar and Ives are independent contractors and do not work for the state.
That new union, Child Care Providers Together Michigan (CCPTM), covers an estimated 40,000 home care providers who look after children whose parents receive state child care assistance funds. By the end of 2009, the union stands to receive about $3.7 million in dues, said Patrick J. Wright, director of the new legal foundation, at a press conference held at the Hall of Justice in Lansing.

"If the state is determined to place these day care workers in a union, it needs an act of the Legislature. … If Sherry and Dawn are government employees simply because a few of their customers receive government aid, then doctors, landlords and independent grocers can't be far behind," Mr. Wright said.
But this is the era of Obama where unions can simply decide they have "new" members and can get a compliant Democrat controlled legislature to begin stealing money from people to give to their union pals.
In the era of Obama everyone is in the union as far as Democrats are concerned. Does it matter if the employee even knows they have a union for their job? No. Does it matter if the employee is given the freedom to choose if he wants to be in a union? Nope.
It's all about compulsion, mandates, and forced unionism. Employee's needs do not apply. Only the needs of union bank accounts are considered.
That is Obama's America.
Be sure and Visit my Home blog Publius' Forum. It's what's happening NOW!
Trending on RightWingNews.com