What Liberal Media Bias? Boston Globe Endorses Coakley, "Since She's A Democrat, Like Us"
by William Teach | January 14, 2010 7:47 am
It apparently means little to the editorial board at the Boston Globe that Martha Coakley has dissed Fenway Park fans[1] (a story their own paper featured[2]. Yesterday), stood idly by while one of her campaign peeps assaulted a reporter[3], and was turned into a dirty mop[4] during the last debate with Scott Brown. Interestingly, the Globe mentions that Brown hammered Coackley[5]. Oh, and don't forget, one of her ads misspelled "Massachusetts.[6]" But, no worries, she's a Dem-o-crat! After a bit of fluff which takes a shot at the Republicans because the majority party, with filibuster proof numbers, can't pass health care, we get their endorsement of Coackley[7], starting with
Republican State Senator Scott Brown, who drives an old truck, channels voter skepticism more directly. Ignoring signs of improvement in the economy, he casts President Obama as the source of today's problems, and would give the Republicans enough votes to block, under Senate rules, anything Obama wants to do. Affable in person, Brown nonetheless seeks to be a terminator, stopping the Democratic domestic agenda in its tracks.
So, they are saying Brown is a hick and deals with the voters, instead of nannying them. He blames the guy who campaigned for the job and is president, instead of that guy who is no longer in the White House, and, darnitall, he could stop the Dem agenda! Sniffle. I couldn't be reading too much into that last part, right? RIGHT?
Rarely has a pitch been more misleading. A vote for Brown is hardly a symbolic protest against congressional gridlock and the ways of Washington. It's a vote for gridlock, in the form of endless Republican filibusters, and for the status quo in health care, climate change, and financial regulation. That's what will happen if Brown gives the Republicans the additional vote they need to tie up the Senate.
Vote for Martha because……well, she's a Democrat. We've got little else. Again, am I reading too much into that?
Voters who want to cast a critical eye on Washington without destroying the Democratic coalition should go for Coakley.
I guess I'm not reading too much into that. The Globe spells it out. But, don't call them liberal hacks. They might cry.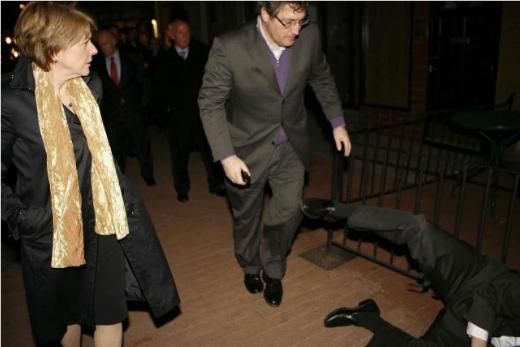 Crossed at Pirate's Cove[8]
Endnotes:
dissed Fenway Park fans: http://legalinsurrection.blogspot.com/2010/01/coakley-takes-slap-shot-at-fenway-fans.html
their own paper featured: http://www.boston.com/news/politics/2008/articles/2010/01/13/campaigns_brevity_shapes_coakley_image_on_trail/
assaulted a reporter: http://theplumline.whorunsgov.com/political-media/dem-staffer-apologies-for-shoving-weekly-standard-staffer/
turned into a dirty mop: http://www.weeklystandard.com/blogs/brown-and-coakley-debate-massachusetts
Brown hammered Coackley: http://www.boston.com/news/local/massachusetts/articles/2010/01/12/coakley_brown_play_on_voters_fears_in_final_us_senate_debate/
misspelled "Massachusetts.: http://gatewaypundit.firstthings.com/2010/01/nice-work-new-coakley-attack-ad-misspells-massachusetts/
their endorsement of Coackley: http://www.boston.com/news/politics/2008/articles/2010/01/13/globe_endorsement_martha_coakley_for_senate/
Pirate's Cove: http://www.thepiratescove.us
Source URL: https://rightwingnews.com/democrats/what-liberal-media-bias-boston-globe-endorses-coakley-since-shes-a-democrat-like-us/
---