Exasperated Ben Carson On Border Drone Media Flap: "Read My Lips"
by Scott McKay | August 24, 2015 3:15 pm
First-time political candidate Ben Carson is polling as high as second place in the GOP presidential contest, and Carson's performance has been one of the largest surprises in the 17-person Republican field to date.
But Carson is continuously beset by examples of his statements being used to drive him out of the mainstream, and a controversy emerged last week after he attempted to suggest that drones could be used to increase the effectiveness of surveillance of the U.S. border in the fight against illegal immigration and drug trafficking. That came to a head in a heated exchange on CNN's "State Of The Union" program as Carson was asked about the dustup by that network's Jim Acosta[1]…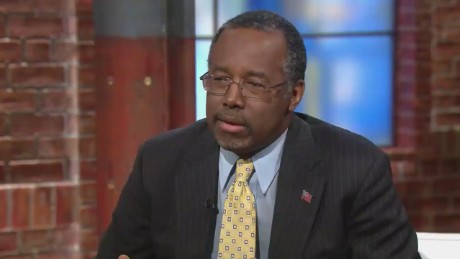 Sunday on CNN's "State of the Union," Republican presidential candidate Ben Carson defended his  comments about the possibility of using drones at the Mexican border in a heated exchange with guest host CNN's Jim Acosta.

Carson said, "It is quite clear what I said, I was border? I said that drones are excellent for surveillance. You know, along that border. We have miles and miles, and, you know… So drones can help with the surveillance, and no way did I suggest that drones be used to kill people. And I said that to the media at the time. I said you guys, some of you are going to to be saying that Carson wants to use drones to kill people on the border, and how ridiculous, and I hope that at some point we have responsible media to focus on the problem. We have a huge security risk there."

When Acosta asked about drone strikes on the cartels Carson said, "That is a total lie. I said that. a drone could be used to destroy is the caves used to hide people."

Acosta continued to push causing Carson to say, "Please, please. read my lips and listen carefully to what I am saying. I said that there are caves. There are caves that they utilize, and those caves can be eliminated. There are a number of possibilities, and that could be one of them. I am not talking about killing people. No people with drones."
Carson's previous statements on things like homosexuality and fetal tissue research have resulted in similar scrutiny – in each case it having come out that what he was saying had little resemblance to how it was reported.
There is an interesting dynamic at work that Carson's experience exemplifies – namely, that the public is enamored of the Ben Carsons and Donald Trumps of the world because they're willing to speak their mind unfiltered by the admonitions of PR specialists and campaign consultants, but with each unfiltered statement comes a torrent of media criticism twisting those statements into something extreme and disqualifying. Professional politicians are coached not to speak in such honest language so as to keep the media dustups to a minimum, but the resulting message is so watered-down and boring that voters refuse to credit it with any meaning.
Endnotes:
Carson was asked about the dustup by that network's Jim Acosta: http://www.breitbart.com/video/2015/08/23/carson-has-heated-border-drone-exchange-on-cnn-read-my-lips/
Source URL: https://rightwingnews.com/media/exasperated-ben-carson-on-border-drone-media-flap-read-my-lips/
---