Six-Year Old With A Rare Genetic Disorder Joins The Navy SEALS For A Day Of Training
by Scott McKay | March 8, 2016 3:20 pm
This story is a little like the one a couple of years ago about the little Nebraska football fan who got to run for a 69-yard touchdown on the last play of the spring game[1].
It's always cool to see the members of high-profile, highly-competitive organizations giving something back to the less fortunate. This fits that to a T.[2]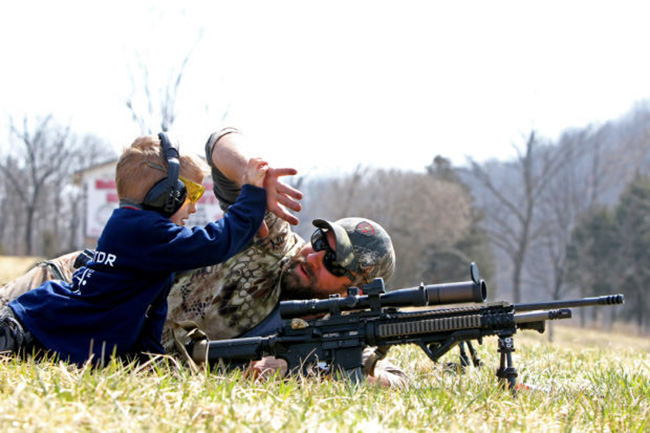 Mason Rudder has already endured 10 surgeries for a rare genetic disorder that affects his range of motion, but that hasn't stopped him from dreaming of becoming an elite Navy SEAL one day.

Navy SEAL Jared Ogden spent a day training Mason. They went through demolition and sniper training, and during their lunch break, Mason led the SEALs on a mission that included detonating a real bomb and clearing three rooms in search of the Taliban leader.
There's video of this training session…
Let's face it – Mason's got a little work to do on his 40-yard dash – but it looks like he's a world-class marksman already. We wouldn't bet against this little guy becoming one of our elite warriors someday.
Endnotes:
little Nebraska football fan who got to run for a 69-yard touchdown on the last play of the spring game: https://www.google.com/url?sa=t&rct=j&q=&esrc=s&source=web&cd=1&cad=rja&uact=8&ved=0ahUKEwiVne3G87HLAhUJ4yYKHXcUC7YQtwIIHTAA&url=https%3A%2F%2Fwww.youtube.com%2Fwatch%3Fv%3D_Jmisv1Spck&usg=AFQjCNEkbJPw2RTpmkUzl8QNk5INX_nBVA&sig2=4gApBAOqKb-C3HBoSL9t9w
This fits that to a T.: http://www.sunnyskyz.com/good-news/1554/Navy-SEALs-Let-A-6-Year-Old-With-A-Rare-Genetic-Disorder-Join-Them-For-A-Day-Of-Training
Source URL: https://rightwingnews.com/military/six-year-old-rare-genetic-disorder-joins-navy-seals-day-training/
---