American Al Qaeda, Adam Gadahn, Captured in Pakistan – UPDATED!!
by Donald Douglas | March 7, 2010 2:23 pm
UPDATE: Via Bloomberg, "FBI Says U.S. Hasn't Confirmed Arrest of Adam Gadahn[1], and at CBS News, "U.S.-Born al Qaeda Arrest News Incorrect: Confusion Over Militant's Identity Sparked Reports of Gadahn Arrest; Some Media Say It is Another U.S.-Born Terrorist[2]."

***********
A tweet from Adam Housley[3] of Fox News[4]: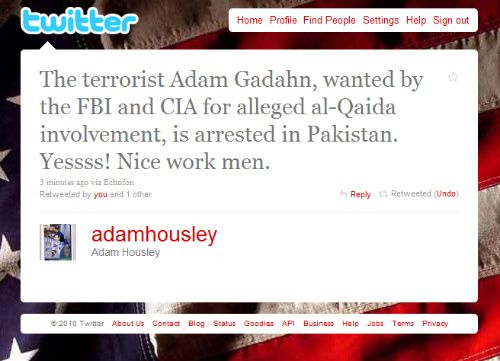 This is flaming-skull material at AOSHQ, "Report: Fatass Adam Gadahn Captured in Pakistan UPDATE: NBC Confirms[5]."
Plus, the Astute Bloggers weigh in, "AWESOME! NOW, KICK THE SHIT OUT OF HIM UNTIL WE KNOW EVERY THING HE DOES[6]."
And at Long War Journal, a serous military-strategic update, "American al Qaeda Spokesman Adam Gadahn Captured in Pakistan: Report[7]."
Note that it's basically bloggers and tweeps breaking the story, although NYT's got an AP wire story, "Pakistan Arrests American-Born al-Qaida Militant[8]."

Added: Melissa Clouthier at RWN, "U.S.A. Traitor Adam Gadahn Captured In Pakistan—UPDATED: About Those Treason Charges[9]."
Cross-posted from American Power[10].
Endnotes:
FBI Says U.S. Hasn't Confirmed Arrest of Adam Gadahn: http://www.bloomberg.com/apps/news?pid=20601091&sid=arKFmf9YsuJM
U.S.-Born al Qaeda Arrest News Incorrect: Confusion Over Militant's Identity Sparked Reports of Gadahn Arrest; Some Media Say It is Another U.S.-Born Terrorist: http://www.cbsnews.com/stories/2010/03/07/world/main6275953.shtml?tag=stack

Adam Housley

: http://twitter.com/adamhousley/status/10129965068

Fox News

: http://liveshots.blogs.foxnews.com/author/adamhousley/

Report: Fatass Adam Gadahn Captured in Pakistan UPDATE: NBC Confirms

: http://ace.mu.nu/archives/299079.php

AWESOME! NOW, KICK THE SHIT OUT OF HIM UNTIL WE KNOW EVERY THING HE DOES

: http://astuteblogger.blogspot.com/2010/03/goatboy-gadahn-urges-muslims-in.html

American al Qaeda Spokesman Adam Gadahn Captured in Pakistan: Report

: http://www.longwarjournal.org/archives/2010/03/american_al_qaeda_sp.php

Pakistan Arrests American-Born al-Qaida Militant

: http://www.nytimes.com/aponline/2010/03/07/world/AP-AS-Pakistan-Al-Qaida-Arrest.html?_r=1&hp
U.S.A. Traitor Adam Gadahn Captured In Pakistan—UPDATED: About Those Treason Charges: https://rightwingnews.com/2010/03/u-s-a-traitor-adam-gadahn-captured-in-pakistan-updated-about-those-treason-charges/
American Power: http://americanpowerblog.blogspot.com/2010/03/american-al-qaeda-adam-gadahn-captured.html
Source URL: https://rightwingnews.com/uncategorized/american-al-qaeda-adam-gadahn-captured-in-pakistan/
---