Global Warming Today: Welcome To Exotic Bali!
by William Teach | December 2, 2007 12:24 pm
Let's start with The Question: If the climahysteric disciples believe that Man is at fault, then why do they
refuse to live the life they tell everyone and every country they should live
and why do they not smack their climahysteric leaders for not only failing to live the life, but living worse then then they say the average person is?
It is fun to ask the climahysterics that. Don't expect a coherent or realistic answer. Usually I get
the government should do something
Bush should have signed Kyoto. Clinton? Who's he?
I can't afford to
So, what do the climahysteric disciples think of this?
BALI, Indonesia, Dec. 2 (Xinhua) — No Western suit and tie, Yvo de Boer, executive secretary of the United Nations Framework Convention on Climate change (UNFCCC), gave a press conference at the Bali International Convention Center here on Sunday ahead of the opening of the U.N. climate change conference.

De Boer, wearing a casual shirt, has set a good example for others to follow suit to echo the conference's theme of reducing greenhouse gas emissions.
Follow suit, eh? So De Boer wants us all to fly to an exotic vacation spot on private planes which would then have to be deadheaded to another island during the "conference?" Good to know!
An information posted on the website of the UNFCCC said that "in consultation with the host country and responding to numerous queries from participants, the Climate Change Secretariat would like to propose that the dress code for participants at the upcoming Conference be adapted to take into account the warm and humid conditions in Bali.

UNFCCC secretariat hopes that "Amending the dress code will allow participants to conduct discussions in a more comfortable environment, as well as limit the use of air conditioning and thereby reduce greenhouse gas emissions."
Yeah. Sure. Would anyone like to place a wager that it simply makes it easier for the scientists blowhards, politicians, and bureaucrats, usually one and the same, to act like they are working while on the beach? It would look funny if people were wearing suits out by the cabana bar, eh?
But, hey, don't worry. They are all just there to jump start the climate change fight. If it works as well as the extreme environmentalists fight to make sure that dead brush is not cleared out in California, well, you can guess.
What do you think, Islamic Rage Boy?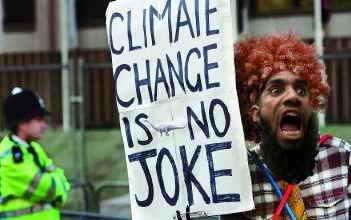 Oh, meanwhile, a real scientist [1]say carbon emissions do not cause global warming.
Cross posted at Pirate's Cove[2], decidedly not carbon neutral.
Endnotes:
real scientist : http://icecap.us/index.php/go/joes-blog/carbon_emissions_dont_cause_global_warming/
Pirate's Cove: http://www.thepiratescove.us/?p=4840
Source URL: https://rightwingnews.com/uncategorized/global-warming-today-welcome-to-exotic-bali/
---