Gulf Oil Spill From NASA Earth Observatory
by Donald Douglas | April 30, 2010 10:47 pm
Lots o' stuff on the Gulf of Mexico oil spill. Via NASA's Twitter stream[1] and Memeorandum[2], "Gulf Oil Spill Creeps Towards Mississippi Delta[3]."
And the untouched photos are at NASA Goddard's Flickr page[4]: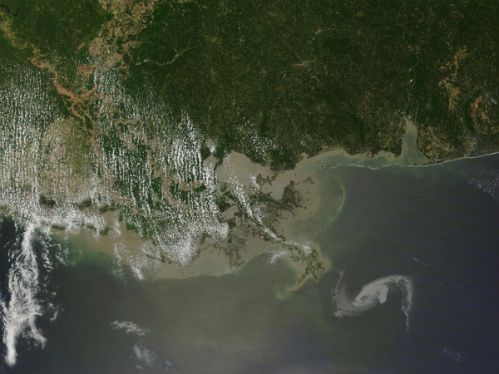 And don't miss the phenomenal coverage at The Big Picture, "Oil spill approaches Louisiana coast[5]."
Radical leftists[6] have already exploited the tragedy, but see Sarah Palin, "Domestic Drilling: Why We Can Still Believe[7]":
All responsible energy development must be accompanied by strict oversight, but even with the strictest oversight in the world, accidents still happen. No human endeavor is ever without risk — whether it's sending a man to the moon or extracting the necessary resources to fuel our civilization. I repeat the slogan "drill here, drill now" not out of naiveté or disregard for the tragic consequences of oil spills — my family and my state and I know firsthand those consequences. How could I still believe in drilling America's domestic supply of energy after having seen the devastation of the Exxon-Valdez spill? I continue to believe in it because increased domestic oil production will make us a more secure, prosperous, and peaceful nation.

Our hearts go out to all Americans along the coast affected by this recent tragedy, especially those who lost family members in the rig explosion, and our prayers go up for a successful recovery. May spill responders be safe.

– Sarah Palin
Cross-posted from American Power[8].
Endnotes:
NASA's Twitter stream

: http://twitter.com/NASA/status/13124222285

Memeorandum

: http://www.memeorandum.com/100430/p113#a100430p113

Gulf Oil Spill Creeps Towards Mississippi Delta

: http://earthobservatory.nasa.gov/IOTD/view.php?id=43846

NASA Goddard's Flickr page

: http://www.flickr.com/photos/gsfc/sets/72157623818984261/
Oil spill approaches Louisiana coast: http://www.boston.com/bigpicture/2010/04/oil_spill_approaches_louisiana.html

Radical leftists

: http://seminal.firedoglake.com/diary/44323

Domestic Drilling: Why We Can Still Believe

: http://www.facebook.com/note.php?note_id=384560338434
American Power: http://americanpowerblog.blogspot.com/2010/04/gulf-oil-spill-from-nasa-earth.html
Source URL: https://rightwingnews.com/uncategorized/gulf-oil-spill-from-nasa-earth-observatory/
---