Michael Meehan, Coakley Campaign Staffer, Apologizes for Making Weekly Standard Reporter Stumble, or Something…
by Donald Douglas | January 13, 2010 10:10 pm
The Associated Press[1] reported that the Weekly Standard's John McCormack "stumbled as he tried to speak with the Democrat while simultaneously videotaping her and trying to pass a metal grate on a Washington sidewalk."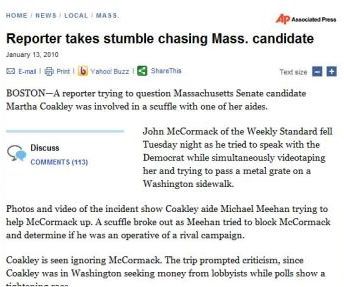 Funny thing is, though, Meehan has now apologized for McCormack's "stumble." See, "Apology Accepted[2]" (via Memeorandum[3]):

A remorseful Michael P. Meehan called today to apologize (see here[4] for background).

He said: "I just want to say to you that I'm sorry. And I'd just like to apologize. I appreciate your calling me back. I don't want to make a big federal case out of it."

He continued: "I'm sorry, I didn't know you were a reporter because you didn't have any credentials, so I apologize for not knowing you were a reporter."

I asked Meehan if he disputed anything that I wrote. "No," he said.

I thanked Meehan for his apology.
Also from McCormack: "Assailant Was a Coakley Staffer on Loan from the Democratic Senatorial Campaign Committee?[5]"
It's not like AP's in the tank for Martha Coakley or anything. And of course, Coakley blamed GOP "stalkers." See, "Coakley cites GOP 'stalkers' in D.C. dust-up[6]."
See also, Fox News, "Weekly Standard Reporter Shoved Outside of Democratic Fundraiser[7]." And Dana Loesch, "Coakley Staffer Knocks Reporter to the Ground."

RELATED: From Legal Insurrection, "Coakley Takes Slap Shot At Fenway Fans[8]."

Cross-posted from American Power[9].
Endnotes:
Associated Press

: http://www.boston.com/news/local/massachusetts/articles/2010/01/13/reporter_takes_stumble_chasing_mass_candidate/

Apology Accepted

: http://www.weeklystandard.com/blogs/apology-accepted

Memeorandum

: http://www.memeorandum.com/100113/p132#a100113p132

here

: http://www.weeklystandard.com/blogs/video-someone-coakley-campaign-pushes-me-metal-railing

Assailant Was a Coakley Staffer on Loan from the Democratic Senatorial Campaign Committee?

: http://www.weeklystandard.com/blogs/assailant-was-coakley-staffer-loan-democratic-senatorial-campaign-committee

Coakley cites GOP 'stalkers' in D.C. dust-up

: http://bostonherald.com.nyud.net/news/politics/view.bg?articleid=1225332&cache_interval=13160

Weekly Standard Reporter Shoved Outside of Democratic Fundraiser

: http://www.foxnews.com/politics/2010/01/13/reporter-conservative-magazine-attacked-outside-democratic-fundraiser/?test=latestnews
Coakley Takes Slap Shot At Fenway Fans: http://legalinsurrection.blogspot.com/2010/01/coakley-takes-slap-shot-at-fenway-fans.html
American Power: http://americanpowerblog.blogspot.com/2010/01/michael-meehan-coakley-campaign-staffer.html
Source URL: https://rightwingnews.com/uncategorized/michael-meehan-coakley-campaign-staffer-apologizes-for-making-weekly-standard-reporter-stumble-or-something/
---