To Be Cool Get An Obama Tattoo
Whatever happened to the good old days when people who got tats gone one that said "Mom" or the name of your husband/wife? Or just a cool design? Maybe something that showed you served in the US Military? This is nothing new, the Cult Of Barry, which is soon to make The Audacity of Hope and Dreams Of My Father to be required reading much as the Scientologists must read Dianetics, has done the tattoo thing before, but it is going even farther with Coronation Day soon upon us: Get an Obama tattoo? Yes, we can
Think that $20 donation to MoveOn.org means you're a die-hard Obama supporter? Think again. True Barack fans carry the new Prez not only in their hearts, but on their skin.

The crew at Fatty's Custom Tattooz in Washington, D.C., is gearing up for the new administration with "Obamathon." Starting Friday and running through Inauguration Day, patrons can get a free Obama '08 tattoo with the purchase of another tat costing $200 or more. And if a chest piece featuring the First Family isn't fanatical enough, Fatty's is also offering an "Obama piercing."
The Daily News has a few more examples of how you can be increase your Barking Obamanut ratio.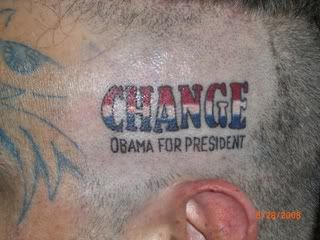 And more:
Boston.com: The President-elect has literally made an imprint on Wizards guard Gilbert Arenas, who has a tribute to Obama tattooed on the fingers on his left hand. The tattoo reads, "Change we believe in," with one word on every finger except the thumb, a variation of Obama's campaign slogan, "Change we can believe in."
Michigan Live: Saginaw's Samantha R. Cook is willing to suffer for President-elect Barack Obama.The 29-year-old Verizon Wireless sales representative underwent 90 minutes of needle pricks Saturday to put a tattoo of the nation's 44th, and first African American, president on her upper arm.
Even overseas news reports the insanity. The Independent: In Fort Wayne, Indiana, Obama tattoo man, Ryan Hadley, was busy applying Obama tattoos on the waistlines of two teenage girls. Other customers wanted them on their legs, arms and waistlines. "The smallest costs $50 (:£35) and one the size of a softball will set you back $600," he said. "They can always be lasered away but so far they are loving them."
Fox5 In DC: Want to make sure you never forget this historic election and inauguration? One local man decided to put it in ink– on his leg. He got a tattoo of Barack Obama's face, thanks to folks at Jinx Proof.
NPR: Tattoo parlors in the D.C. area are capitalizing on the Inauguration Day hoopla. They're hoping to bring business in the door by offering specials, including Barack Obama tattoos.
Of course, the tats are almost a minor blip on the radar in comparison to all the other money that Obamanuts have spent. Think of what that money could have meant to the economy? The donations to Left wing groups, to the Barry campaign, to the crazy merchandise the 'Nuts are buying.
Barack Obama is for sale – on almost everything.

T-shirts, basketballs, calendars, stamps, coins, posters, golf balls, tote bags, money clips, even eyebrow-raising items from hot sauce to thong underwear.

"It's an almost religious phenomenon," marketing teacher Tomas Gomez-Arias of St. Mary's College in Moraga said of the retail craze.
Reminds me of Jim Jones, as he led his people to die. Kool aid reference perfect.
But, don't you dare call them un-patriotic, despite what they have done to the flag (Michelle Malkin.)
And just to make the day perfect, CNN tracked down a granddaughter of a former slave to tell us how she was "afraid for Obama, because someone might kill him."
Just because a new presidential era is about to start, that doesn't mean that the left wing loons will slowly regain their sanity.
Quick update: It gets even more Barrylicious! How about a Barry haircut? Going grey quickly not included.
Crossed at Pirate's Cove.
Trending on RightWingNews.com