Illegal alien arrested for keeping his girlfriend chained to an engine
I was browsing along this morning, when I came across this story linked at Ace of Spades. It's about a man — Fernando Orozco-Trevizo — who kept his girlfriend chained to an engine inside their trailer. He also beat her and strangled her. The desperate woman was able to escape by drawing "Call 911" in the condensation on the window, catching the attention of a neighbor who called police.
Investigators believe the woman was held captive in her apartment, near 2900 West and 3500 South, for several days, possibly a week or more. When her boyfriend was home, she was allowed to roam freely in the apartment. But when he left, a chain was tied around her ankles, said West Valley police Capt. Tom McLachlan. The other end of the 20-foot dog chain was tied to a 6-cylinder engine in the closet, he said.

The chain was long enough for her to reach a restroom, but she could not leave the room. The door leading into the room had deadbolts on both sides, McLachlan said, and both were locked. The windows in the room were screwed shut so they couldn't be opened. Additionally, the apartment had no phone.

Last Friday morning, the desperate woman wrote "call 911" in the condensation on her window. The first floor window, which was in the back of the building, faced a neighboring trailer court. The nearest trailer was about 20 yards away.

Peter Erkelens, 32, who lives in that trailer, was just getting home from work when he saw the woman writing on her window with her finger, he said. He saw the message and was able to talk to the chained woman through the glass. He then called 911 using his mobile phone.

…

The woman talked to the man while her boyfriend was still in the house, McLachlan said. She barricaded the door with a dresser so he could not get in, he said.

When police arrived, they kicked in the front door of the apartment and broke out the glass from the back room. They found "a frantic woman crying," according to a Salt Lake County Jail report.

"After police told me she was chained to an engine block, I was kinda shocked and disgusted," Erkelens said. "Who does that?"

The woman told officers that her boyfriend, "beats her regularly, strangles her and doesn't let her leave." In addition to the engine block and chain, police also found padlocks and the two-way deadbolt lock "that was secured with a key from the inside and outside."

"The victim had injuries from being beaten, strangled and there were scratches on her lower legs where the chain had been attached," the jail report stated.
Here is the mugshot of Orozco-Trevizo: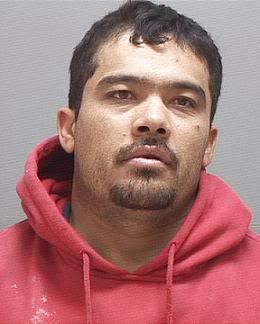 Of course, there's no specific mention in this story as to what his immigration status is. But there's a telling little nugget in one of the last paragraphs (emphasis mine):
Orozco-Trevizo was booked into the Salt Lake County Jail for investigation of aggravated kidnapping and assault. He also had an immigration detainer put on him for aggravated re-entry into the United States. Orozco-Trevizo told police if he got deported again, "he will come back for the victim," according to jail records.
So if he gets deported again, he'll come back for the girlfriend — meaning he's been deported before. And he doesn't care at all about breaking our laws again to come back to try to beat, strangle, and imprison this girl again (if not worse).
So… why has he not already been kicked out? He'll probably serve out his jail sentence, to then be freed with a deportation order that no one bothers to follow through with so he can continue with his vile ways here in the United States, free to continue on breaking our laws and exploiting our generosity. Isn't that how it normally works?
But hey, he's just doing the imprisoning and girlfriend-beating that regular Americans won't do, right? We should respect that. I'm just being a xenophobic bigot. My bad.
Here's a better plan: Deport. Them. NOW.
You can read more from Cassy at her blog or at Wizbang.
Trending on RightWingNews.com