Good Grief: Win A Chance To Have Obama In Your "Holiday Card"
First we had the gift registry, attempting to raise cash. That went over like a fart during a wedding ceremony. He's tried to raise money off his birthday parties, Michelle's, you name it. Then there's this (via The Lonely Conservative from iOwnTheWorld)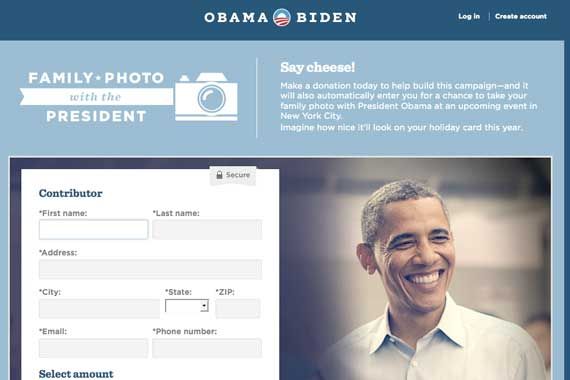 (Photo from iOwnTheWorld)
Looking for a new holiday card picture? Enter now for your chance to have your family photo taken with President Obama at an upcoming event in New York City.

Then, if you can, please consider making a donation to support the campaign and you'll be automatically entered again.
Unfortunately, the contest ended July 20th. I know you're like totally bummed.
iOwnTheWorld has a number of disturbing photoshop examples, such as
And I have this
Anyone want to pony a good photoshop?
Crossed at Pirate's Cove. Follow me on Twitter @WilliamTeach.
Trending on RightWingNews.com