Obama Does Reddit, Says Afghan Surge Toughest Decision
Yesterday, while some Democrats and media sources were wondering about whether it was appropriate for the GOP to hold their convention as Isaac was striking Louisiana, Obama was holding numerous campaign events, including an on-line convo on Reddit (you can see all the questions and answers together here). The Washington Post has the top 5 most awesome questions, but, here is the most interesting
Q: What was the most difficult decision that you had to make during this term?

Obama: The decision to surge our forces in afghanistan. Any time you send our brave men and women into battle, you know that not everyone will come home safely, and that necessarily weighs heavily on you. The decision did help us blunt the taliban's momentum, and is allowing us to transition to afghan lead – so we will have recovered that surge at the end of this month, and will end the war at the end of 2014. But knowing of the heroes that have fallen is something you never forget.
Well, that's very interesting. We can discuss his opposition to the Iraqi surge (when Bush was President) and other issues surrounding the Afghany surge, whether it worked, etc, but, consider: he says this was his toughest decision. How does he handle it when US military members are killed?
(Gateway Pundit) On August 6, 2011, 30 US service members were killed when a CH-47 Chinook helicopter they were being transported in crashed in Wardak province, Afghanistan. It was the deadliest single loss for U.S. forces in the decade-long war in Afghanistan. 17 members of the elite Navy SEALs were killed in the crash.

Yesterday, Karen and Billy Vaughn, parents of Aaron Carson Vaughn, spoke at the Defending the Defenders forum sponsored by the Tea Party Patriots outside the RNC Convention in Tampa. Karen brought a copy of the form letter they were sent following their son's death.

It's a form letter.

It was signed by an electric pen.
In fact, other parents of SEALs killed in that crash received the exact same thing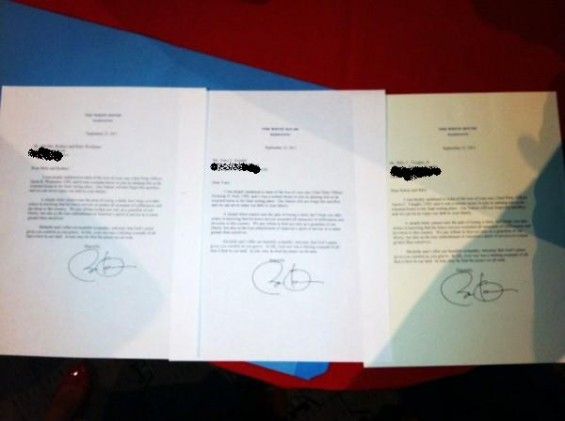 So, Obama's "toughest" decision leads him to not even bother signing the letters of condolence himself. Fortunately, he took the time to send a personal letter of condolence on the death of ……rap singer Heavy D.
Crossed at Pirate's Cove. Follow me on Twitter @WilliamTeach.
Trending on RightWingNews.com