Real Proof Why Obama Is No Longer "The One"
Doug Heye from US News and World Report does the yeoman's work, and provides proof why the Obamanuts have lost that loving feeling: Forget Polls, Here's Tangible Proof the Obama Honeymoon is Over
One sign that Washington, D.C., had been home to Obama Mania was the number of independent retailers selling all sorts of Obama merchandise. Every street corner, it seemed, had Obama wares (or Obama wear) for sale. Now, however, most of the winter caps for sale are not emblazoned with the Obama logo. T-shirts depicting our president as a dunking Michael Jordan, a victorious Muhammad Ali, or saber-baring Luke Skywalker (yes, these shirts all existed) are nowhere to be found.

This time last year, the Obama Store was teeming with customers. Ideally situated in the basement of Washington's Union Station, the store was filled with consumers eager to buy anything with Obama's likeness while others took pictures of the life-size cut-outs of the president and first lady. Now, the Obama Store is boarded up.

How quickly things change in a year.
Trending: The 15 Best Conservative News Sites On The Internet
Another sign would be how well Obama merchandise is selling on Ebay. In a word, it isn't. If you search around, you'll find that most items have zero bids. A small few have 1 or 2, but, mostly zero. Plus, very few are creating anything interesting anymore. I could have done without seeing this while researching Ebay, though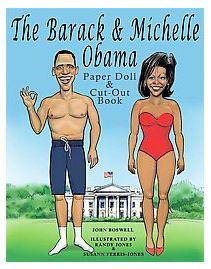 Crossed at Pirate's Cove
Trending on RightWingNews.com