AGW Today: New Killer Poll Brings Da Humor!
And surely teeth nashing from all the little Climate Alarmists (who refuse to walk the talk) (via Tom Nelson)
Americans remain focused on economic issues, which top their list of concerns, according to the most recent consumer survey by the Center for Food Integrity. The U.S. economy, rising energy, food and health-care costs, as well as personal financial situation were rated the highest level of concern among 11 current issues. Global warming received the lowest rating. (See poll results below)

"The top five issues each had a mean score above 8 on a scoring scale of 0 to 10, which indicates a very high level of concern on a national survey," says Jan Wilson of Gestalt Research, which conducted the survey for CFI. More than 2,000 consumers responded to the national survey conducted in August and September.
Breakdown (A total of 2018 consumer surveys (sampling error at 95 percent confidence level +/- 2.2%) were collected via a Web survey in August and September of 2009.)
Trending: The 15 Best Conservative News Sites On The Internet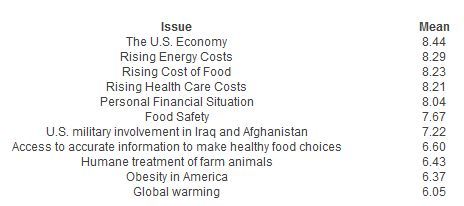 So, treatment of pigs, chickens, and Bessie the cow beat out AGW.
In other climate change news
BTW, have you heard about that movie?
Sitting through previews at the Regal Theatres in Manassas, I saw an advertisement for their Fathom Events, one-time events at movie theaters. They were promoting the premiere of a new British global-warming film on Monday, September 21 called "The Age of Stupid," sponsored by MoveOn and Greenpeace. The film will be simulcast from a solar tent in downtown New York to over 440 movie theatres across America.

As usual in liberal-ese, "The Age of Stupid" is our age, in which someone still allows the obstacles of conservative activism and a fraction of a free market. The film is radical enough that The New York Times raved it was "a much sterner and more alarming polemic than An Inconvenient Truth."
What better way to bring people to your cause than calling them stupid? Of course, you know liberals/progressives will be nodding their heads in agreement with the movie.
A better movie is Not Evil, Just Wrong, which will be released in 23 days.
Crossed at Pirate's Cove
Trending on RightWingNews.com