The Marcott "Abrupt Warming" Meme Dying A Slow Death
Will The AP, NY Times, and others (The Global Warming Policy Foundation has an interesting list with quotes) who published the findings of the Marcott paper retract their stories and publish updates, since the "science" of the Marcott paper are entirely in question? Here's Bjørn Lomborg
3 weeks ago, a paper in Science showed the last 11,000 years of temperature. The claim, that went around the world was one of "an abrupt warming in the last 100 years", as the New York Times put it.

Today, the researchers admit this claim was wrong. The last hundred years is not only below the resolution of the reconstruction, but also not representative:

"the 20th century portion of our paleotemperature stack is not statistically robust, cannot be considered representative of global temperature changes, and therefore is not the basis of any of our conclusions."
If you don't want to believe, Lomborg, how about the NY Times' resident Warmist, Andrew Revkin? That quote comes from Revkin's NY Times article. What we were told was that the warming over the last 100 years was the biggest and most abrupt during the last 11,000 years. Now, after all the media pushed that meme, one of the authors, Jeremy Shakun, has told us "well, not so much."
@rogerpielkejr @climateofgavin @revkin truly irksome is the deviation between what the paper says and what their data say

— Richard Tol (@RichardTol) March 31, 2013
That's UN IPCC lead author Richard Tol.
Roger Pielke, Jr, says the paper comes close to gross scientific misconduct, and Anthony Watts wonders when it will be retracted. And, per Pielke, Jr, here's what happens when you removed the portion that is "not statistically robust"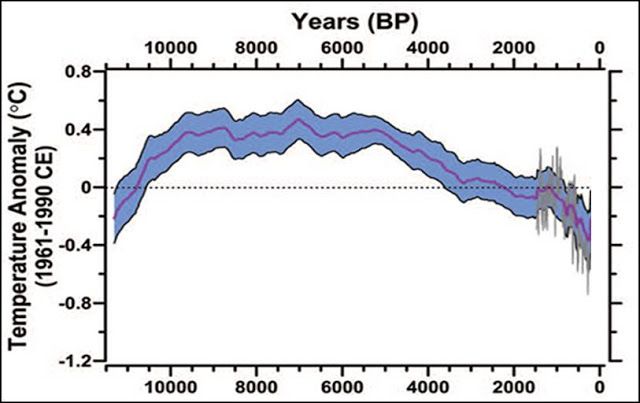 To wrap up, let's be clear: most Climate Realists are not arguing that there has been no warming (and I'll argue with any who say there hasn't been any): we're arguing causation. We're saying it is mostly or solely natural. Just like it has always been. Warmists claim it is mostly or solely anthropogenic. Why? Their main reason seems to boil down to "because we say so".
Crossed at Pirate's Cove. Follow me on Twitter @WilliamTeach.
Trending on RightWingNews.com