It's Trump Vs The Planet On 'Climate Change' Or Something
Members of the Cult of Climastrology seem a bit upset that Trump is going to actually do what he said during the campaign season and since winning the election, namely, doing away with government sponsored climate change insanity
Trump vs. The Planet: Climate in Crosshairs of Executive Pen

Given what is known about his cabinet picks and plans for fossil fuel extraction and executive actions, the former reality TV star who became the 45th President of the United States on Friday appears poised to kick off a "deregulatory agenda" and take actions to fast-track climate catastrophe.

Michael Halpern, deputy director of the Center for Science and Democracy at the Union of Concerned Scientists, predicts the new administration to continue its shock therapy strategy:

A major strategy has been—and will likely continue to be—to institute radical proposals by overwhelming the public with an avalanche of activity and by attempting to distract us with the president's cult of personality.

And given the corporate cabinet, a climate-denying transition team, and a dearth of debate on appointees, Halpern expects "significant industry influence over the role of science in government decisions."
So, instead of the influence of shady interest groups, attempting to impose their views on all citizens by government regulation while fundraising and refusing to implement their beliefs in their own lives, you could get people who are not full of BS.
Trump himself laid out after Election Day what he'd do on his first day in office, including allowing the Keystone XL pipeline to move forward; lifting restrictions on fossil fuel production; and canceling "billions in payments to U.N. climate change programs."
Excellent!
As Michael Slezak wrote Friday at the Guardian, "regardless of what climate deniers (yes, deniers) like Trump may say about the science, the stark reality is that it is happening now."

"We are no longer fighting to stop climate change, but fighting to stop a runaway catastrophe," he added.
And that's exactly why belief in anthropogenic climate change has plummeted, and is generally a low ranked issue by most Americans: this apocalyptic viewpoint from people who seem less like scientists and more like the person standing on the corner with sign saying "The end is nigh!"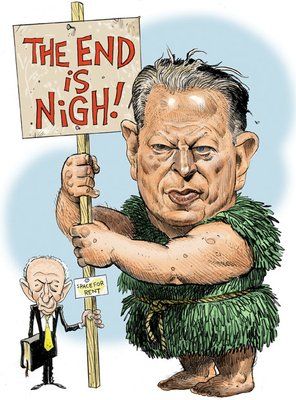 And, to reiterate, the debate from Skeptics is not on warming, but causation. It's going to be a long, unhinged four years for Warmists. Here's a clue for them: you lost.
Crossed at Pirate's Cove. Follow me on Twitter @WilliamTeach.
Trending on RightWingNews.com