Surprise: Judicial Watch Obtains Documents Showing IRS HQ Knew Of Tea Party Targeting
At the end of the day, history will show that the Obama administration was inept, unqualified, vindictive, overly political, and secretive, among others. Whether those directly within Team Obama ordered or "suggested" targeting of Tea Party groups is not currently known. However, the attitudes of Team Obama, including Mr. Obama himself, created a perfect storm where Leftists in the federal bureaucracy abused their Power. Supposedly, there was no coordination with D.C. That talking point has been shredded
(Judicial Watch) Judicial Watch today released a new batch of Internal Revenue Service (IRS) documents revealing that its handling of Tea Party applications was directed out of the agency's headquarters in Washington, DC. The documents also show extensive pressure on the IRS by Senator Carl Levin (D-MI) to shut down conservative-leaning tax-exempt organizations. The IRS' emails by Lois Lerner detail her misleading explanations to investigators about the targeting of Tea Party organizations.

The documents came in response to an October 2013 Judicial Watch Freedom of Information Act (FOIA) lawsuit filed after the agency refused to respond to four FOIA requests dating back to May 2013 (Judicial Watch, Inc. v. Internal Revenue Service (No. 1:13-cv-01559)).

One key email string from July 2012 confirms that IRS Tea Party scrutiny was directed from Washington, DC. On July 6, 2010, Holly Paz (the former Director of the IRS Rulings and Agreements Division and current Manager of Exempt Organizations Guidance) asks IRS lawyer Steven Grodnitzky "to let Cindy and Sharon know how we have been handling Tea Party applications in the last few months." Cindy Thomas is the former director of the IRS Exempt Organizations office in Cincinnati and Sharon Camarillo was a Senior Manager in their Los Angeles office. Grodnitzky, a top lawyer in the Exempt Organization Technical unit (EOT) in Washington, DC, responds:

EOT is working the Tea party applications in coordination with Cincy. We are developing a few applications here in DC and providing copies of our development letters with the agent to use as examples in the development of their cases. Chip Hull [another lawyer in IRS headquarters] is working these cases in EOT and working with the agent in Cincy, so any communication should include him as well. Because the Tea party applications are the subject of an SCR [Sensitive Case Report], we cannot resolve any of the cases without coordinating with Rob.

The reference to Rob is believed to be Rob Choi, then-Director of Rulings and Agreements in IRS's Washington, DC, headquarters.
I do believe that the House committee will have several more pointed questions for Ms. Lerner, Mr. Choi, and a few others. There are more emails, some of which are about how to search for Tea Party applications. There was actually a BOLO (be on the lookout) order to look for them.
A series of letters between Senator Levin (D-MI), chairman of the Subcommittee on Investigations, and top IRS officials throughout 2012 discuss how to target conservative groups the senator claimed were "engaged in political activities." In response to a Levin March 30 letter citing the "urgency of the issue," then-Deputy Commissioner Steven Miller assured the senator that IRS regulations were flexible enough to allow IRS agents to "prepare individualized questions and requests" for select 501(c)(4) organizations.
So the IRS, a supposedly neutral federal agency, was coordinating and concersing with a sitting US Senator who happened to be a Democrat and wanted to target the Tea Party groups (which surely violates his oath to uphold the Constitution, particularly the 1st Amendment.) Hot Air goes through the details on this.
In perhaps the most revealing letter from the IRS to Levin, Miller on June 4, 2012, takes 16 pages to explain to the senator what IRS regulations and policies may and may not be used to evaluate political groups and assures him that the agency has considerable leeway in picking and choosing which groups would be subject to additional scrutiny:

There is no standard questionnaire used to obtain information about political activities. Although there is a template development letter that describes the general information on the case development process, the letter does not specify the information to be requested from any particular organization … Consequently, revenue agents prepare individualized questions and requests for documents relevant to the application. . .

A May 14, 2013, Treasury Inspector General for Tax Administration (TIGTA) report revealed that the IRS had singled out groups with conservative-sounding terms such as "patriot" and "Tea Party" in their titles when applying for tax-exempt status. The TIGTA probe determined that "Early in Calendar Year 2010, the IRS began using inappropriate criteria to identify organizations applying for tax-exempt status (e.g., lists of past and future donors)." The illegal IRS reviews continued for more than 18 months and "delayed processing of targeted groups applications" preparing for the 2012 presidential election.
The IRS even used special symbols, via the Washington, D.C., office (via Katie Pavlich)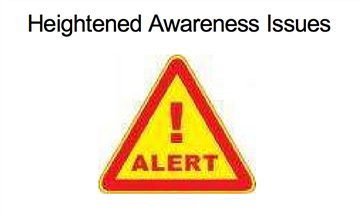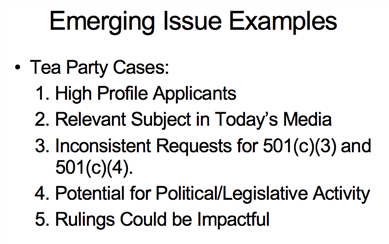 Liberals/Democrats/Progressives, just remember, if you're poo-pooing this intentional, coordinated targeting of Tea Party groups, in violation of Law, much less the Constitution, don't complain if it happens to your groups. Oh, you don't think that would be right to have them intentionally targeted? Huh. Strange.
BTW, have you noticed that it so often seems that the only way to get the real info out of The Most Transparent Administration Evah!!!!!! requires lawsuits?
Crossed at Pirate's Cove. Follow me on Twitter @WilliamTeach.
Trending on RightWingNews.com