Helen Thomas: The End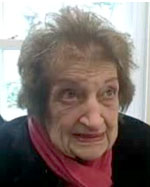 Since I wrote and submitted my piece on Helen Thomas comparing the firestorm of condemnation that occurred immediately after entertainer Don Imus made his race-tinged comments about the Rutgers basketball players to the relative kid gloves with which Helen Thomas is being handled over her outrageous anti-Israeli comments a few new things have occurred in the story.
First of all a few left leaning pundits have scolded Thomas, most prominently Clinton era operative Lanny Davis who issued a press release calling Thomas an "anti-Semitic bigot."
Joe Klein, another left-wing pundit, posted a few short paragraphs saying that he felt Thomas should be moved from the front row to the back of the room, though he is obviously avoiding a call for her to be fired. Apparently her anti-Semitism isn't bad enough for Klein to want her fired.
We also have learned that the speaker's agency that used to shop Thomas as a speaker for various functions has removed her from its list of celebrity speakers. Nine Speaker, Inc. made the announcement Sunday that they would no longer rep her as a speaker to prospective events.
And now today, Monday June 7, Thomas herself has announced that she intends to retire from her multi-decade journalism career. Effective immediately, Thomas is done.
So, we are finally seeing some consequences to Thomas' actions.
But what we aren't seeing from the Old Media is the same amount of immediate condemnation of Thomas that Don Imus was confronted with. The Thomas affair, however, has never attained the sort of wide-spread vitriol, the wall-to-wall coverage that Imus saw.
With Imus every radio news break mentioned his infamy, every cable station followed the story, every newspaper and Network TV show talked of it. It couldn't have been covered more heavily if Imus had taken a slow ride in a white Bronco on the Interstate. Yet, the understated coverage that Thomas has gotten pales by comparison.
So, even as we are finally seeing some consequences brought to Thomas as a result of her actions, it is almost despite the kid glove treatment that her friends in the Old Media have afforded her.
In any case, Helen Thomas is finally exiting the scene and under a dark cloud of her own making at that. This is a good thing. Her Jew-hating remarks should not be tolerated in a member of the media, especially one celebrated by presidents and given preferential treatment by administrations spanning decades.
Good riddance Helen Thomas.
Trending on RightWingNews.com