Sandra Bland Protest: Kill The White People
Remember the old Eddie Murphy "Saturday Night Live" sketch in which Murphy, as reggae singer Tyrone Green, belted out the famous "Kill the white people, but buy my record first" satirical lyric at a VFW hall talent show?
Protestors in Houston brought back echoes of the comedy classic over the weekend, except this time they weren't joking.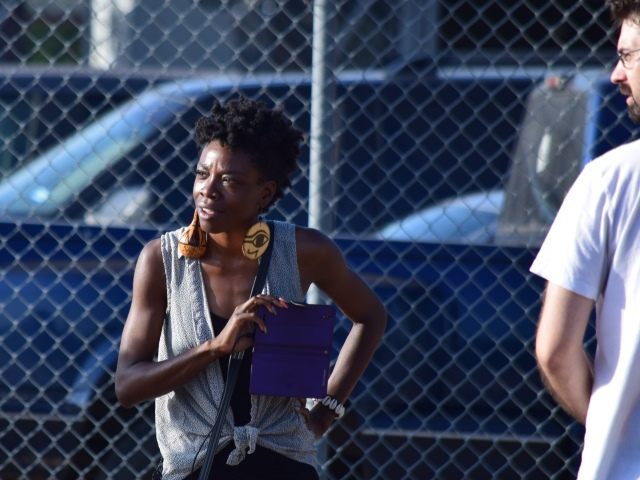 Breitbart Texas was at the Waller County Sheriff's Office county jail Saturday evening when a protester told reporters and others present, that all white people should be killed. She also called white people and reporters, "terrorists." Her orders – "go back into the cave where you came from."

Trending: The 15 Best Conservative News Sites On The Internet

As reported by Breitbart Texas, the group Anonymous posted a YouTube video and made threatening demands upon the Waller County Sheriff's Department and Waller County officials saying, "We all know where you live. No mercy for murderers."

The group planned protests in 35 cities throughout the U.S. on Saturday, August 8th, and made specific threats against the Waller County Sheriff and other Waller County police officers. They were at the Waller County jail on Saturday evening.

"You see this nappy-ass hair on my head? … That means I am one of those more militant Negroes," a protester later identified as "Sunshine" said.

She told reporters she was at the protest because "these redneck mother-f**kers murdered Sandra Bland because she had nappy hair like me."
We're seeing the rise of the radical race industry across the country, and it's showing up at the slightest provocation or even without provocation at all. After all, #BlackLivesMatter protestors blew up a Bernie Sanders speaking appearance in Seattle over the weekend.
Watch as the "militant Negroes" as so named by our friend "Sunshine" grow in prominence in advance of the 2016 election cycle. The Democrat Party is so in thrall to the race industry that they're unable to keep the movement in control.
At least Murphy's Tyrone Green character was trying to sell records. He seems like a nice guy nowadays.
Trending on RightWingNews.com