Hiring Stepped Up A Bit In July, But Unemployment Rate "Unexpectedly" Goes Up
Hey, remember these fun Obama quotes?
The private sector is doing fine
You didn't build that
We tried our plan and it worked!
Really?
(CNN) Businesses stepped up their hiring in July, but the unemployment rate ticked higher anyway.

Employers said they added 163,000 jobs in the month, according to a Labor Department report released Friday, much better than the 95,000 jobs economists had forecast.

But at the same time, the unemployment rate unexpectedly rose to 8.3% as households claimed they lost 195,000 jobs. (snip)

Revisions from previous months also showed the economy gained 6,000 fewer jobs in May and June than originally thought. (snip)

Three years after the recession officially ended, roughly 12.8 million Americans remain unemployed, and 40.7% of them have been so for six months or more.

Meanwhile, 852,000 so-called "discouraged workers" were not counted in the labor force, because they did not look for a job in the last four weeks.
Some like to compare Obama's depression to Reagan's recession, both of whom "inherited" the condition. In July 1984, the economy added 379,000 jobs after adding : 308,000 in May and 363,000 in April. There weren't reports about people simply giving up en masse from the jobs market. Under Reagan, the economy continuously showed signs of improvement. Under Obama, it just keeps slugging on, going nowhere. And RNC Chairman Reince Priebus was quick to pounce
"Last week President Obama said, 'We tried our plan, and it worked.' With the unemployment rate going up again, it's obvious that plan didn't work at all," said RNC Chairman Reince Priebus.

"Instead of supporting American innovation and job creation, he has squandered taxpayer money on failed companies like Solyndra, which led to job losses. It's no wonder we can't end this economic nightmare. The president continues to take us in the wrong direction.

"In a time of widespread economic hardship, the president's schedule has not included a 'Daily Economic Briefing' since April of 2011. He has not convened his Jobs Council in over six months, yet he has found time for over 120 political fundraisers and 11 rounds of golf since their last meeting.

"President Obama's only plans for a second term are higher taxes and more spending—exactly the opposite of what we need. On Day One of his presidency, Mitt Romney will get to work implementing his comprehensive jobs plan to turn around the economy."
More: Via Ace from Political Math comes this handy dandy graphic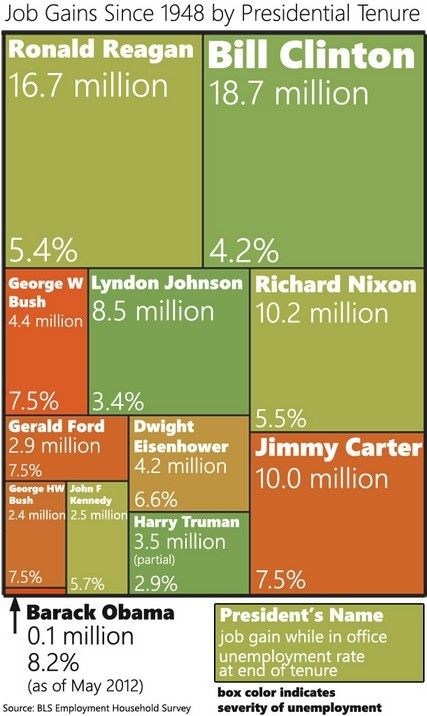 Trending on RightWingNews.com