2014 Midterm Issues: "Climate Change" Is Dead Last
In other words, most people just don't care
(Gallup) The Republicans in Congress hold significant leads over the Democrats on four of the six issues that U.S. registered voters say are most important in determining how they will vote in November: the economy, the way the federal government is working, the situation with Islamic militants in Iraq and Syria, and the federal budget deficit. Democrats, by contrast, top their Republican rivals on just one of the six: "equal pay for women."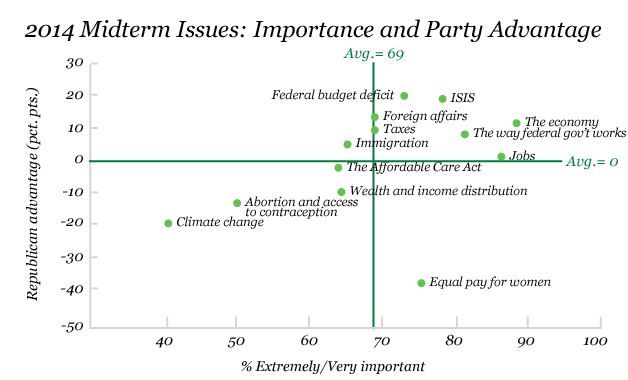 And what we see from this is that "climate change" comes in dead last when it comes to issues that are part of midterm platforms. Fortunately for Democrats, this gives them a 20 point advantage over Republicans! Yay!
Regarding the rest
These results are from a Sept. 25-30 poll in which Gallup asked registered voters to rate the importance of 13 issues to their vote for Congress, and then to indicate which party would do a better job on each issue. The accompanying graph simultaneously displays the rankings of these issues on both dimensions. The higher an issue is, the greater the Republican Party's advantage. And the farther to the right an issue is, the more important it is to the electorate.

The 13 issues measured in the new poll include eight that appeared in a Gallup Poll conducted in April, before the midterm campaign season came into full bloom, plus five new ones. In total, six issues were rated above the average of 69%, in terms of the percentage of voters saying they are extremely or very important to their vote:

the economy (88%)
the availability of good jobs (86%)
the way the federal government is working (81%)
the situation with Islamic militants in Iraq and Syria (78%)
equal pay for women (75%) and
the federal budget deficit (73%)
Of those 6 issues, the only one the Democrats are rated as doing better than GOP is equal pay for women.
Crossed at Pirate's Cove. Follow me on Twitter @WilliamTeach
Trending on RightWingNews.com