Houston's Voters CRUSH Obnoxious "Bathroom Bill;" Outgoing Lesbian Mayor Leaves In Total Defeat
When the voters of Houston, Texas, a liberal enclave amid deep-red Southeast Texas, elected openly-lesbian mayor Annise Parker four years ago, it was on the promise that her sexuality would not be an issue in her performance on the job.
It hasn't worked out that way.
As the city's finances have largely collapsed – as in hundreds of millions of dollars in budget deficits – Parker has engaged in something of a jihad against Christianity and traditional gender. Included in her campaign has been a controversial Houston Equal Rights Ordinance, a smorgasbord of gay-rights activism junked into a piece of legislation thoroughly obnoxious to Houston's sizable evangelical Christian population. HERO was so awful that it would have allowed men who "identify" as women to use ladies' bathrooms across the city.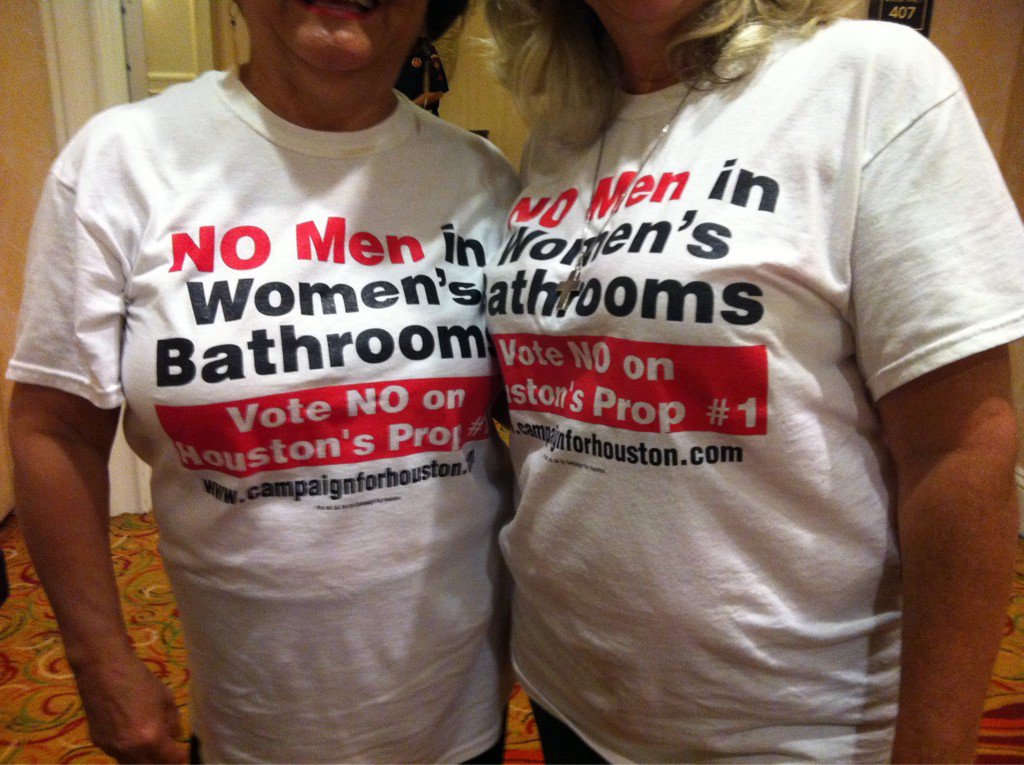 Trending: The 15 Best Conservative News Sites On The Internet
When it was passed by Houston's City Council in the spring, all hell broke loose. Ryan T. Anderson, at The Daily Signal, gives a brief summary…
Citizens in Houston organized against the city council and collected more than enough signatures required to put the issue to a vote of the people. But the mayor claimed the majority of signatures were invalid and refused to put the issue on the ballot. Then she subpoenaed the sermons of five prominent pastors who helped lead the charge against the measure. After a public outcry, the mayor relented on the sermons, and a unanimous state Supreme Court said the signatures were valid and the citizens had to vote on the measure.

And the citizens won.

Against one-sided media coverage, big business lobbying, and various elites expressing their support for the ordinance—a grassroots coalition of ordinary citizens were able to explain why sexual orientation and gender identity laws are bad policy.
Won they did. The final tally on the vote was a rout. 61 percent voted the ordinance down.
And the defeat of the ordinance signals the complete and total failure of the divisive and incompetent Parker administration in Houston. As National Review's Kevin Williamson put it…
Last time around, Houston elected as its mayor Annise Parker, the first open lesbian to serve as mayor of a major U.S. city. There are some ass-kicking lesbians in the world, but Parker is not one of them. Texas has a reputation for being a hotbed of Evangelical fervor, but Houstonians are in the main blasé about their mayor's sexual orientation — it's her political orientation that's the problem. If she'd been able to do something about the city's lunar roadscapes or its incipient fiscal emergency, nobody would have cared if her main sexual enthusiasms was lurking in airport restrooms hoping for stray Republican congressmen — they'd have built monuments to her. Even Parker's progressive-minded constituents must, in their honest moments, judge her a failure: On such lifestyle-liberal metrics as mass transit and environmental quality, Houston is kind of a mess.

Instead of a competent city-builder who is also gay, Houston got a culture warrior whose parting gift to the city is a deeply stupid fight over "HERO" — the Houston Equal-Rights Ordinance — which among other things would create a new body of local civil-rights law (the lawyers cheer with one voice) covering transgender/transsexual people in the matter of public accommodations, meaning public toilets and the like. This wasn't preceded by some crisis in the matter of toilet accommodations for men in dresses, but the issue is critically important to some people: Namely, to people who are in their affluence and comfort able to maintain a state of graceful blindness to the actual nuts-and-bolts problems facing Houston.
Trending on RightWingNews.com