Around 100 Tea Partiers Arrested….Oh, Wait, Sorry, 99 Percenters Arrested In Boston
Remember who all those TEA Partiers were arrested during many of the protests? No? They weren't? There were barely any arrests, if any? There were permits and stuff, and the TP's acted in a civil manner? How about the 99 Percenters?
Boston police moved in and began arresting scores of Occupy Boston protesters who refused to leave a large part of the Rose Fitzgerald Kennedy Greenway early this morning.

At 1:20 a.m., the first riot police officers lined up on Atlantic Avenue. Minutes later, dozens of sheriff vans and police wagons arrived and over 200 officers in uniforms and riot gear surrounded the Greenway.

Police Superintendent William Evans and Commissioner Edward F. Davis watched from across the street. Evans gave the crowd two minutes to disperse from the park, warning that they would be locked up if they did not comply.

Trending: The 15 Best Conservative News Sites On The Internet

The crowd of protesters, energized by the sudden appearance of the Boston and Transit police officers, chanted, ''The people united will never be defeated,'' "This is a peaceful protest," and "the whole world is watching.''
Then the police moved in to arrest those who were protesting a brutal dictatorship nebulous left wing talking points
About 100 people were arrested, Davis said. One police officer was hit in the face.
I guess Boston doesn't want the place to stink to high heaven and become a toxic site soon to be put on the Superfund list, as the park near Wall Street will soon be is surely almost there. They probably do not want the park to become polluted and filthy.
Officials do not want the protesters, who originally settled in Dewey Square, to occupy the space across Congress Street on the Greenway because it recently underwent a renovation project where expensive improvements were added, according to Elaine Driscoll, police spokeswoman.
Well, I'm shocked. Boston PD was worried about these so-called environmentalists would trash the area?
Meanwhile, the #OWSMorons plan to march to the homes of Rupert Murdoch and other millionaires, and stink up those neighborhoods, reports The NY Daily News.
Day 24 of the chaotic, festive protest in Zuccotti Park saw a demonstration by schoolchildren who sang songs and waved signs saying "Money for Schools Not War," a Native American protest against Columbus Day and a brief frenzy over the arrival of hip-hop icons Kanye West and Russell Simmons.

"I don't pay enough taxes, and I know it," said Simmons, the Def Jam magnate worth $340million and author of the new book "Super Rich: A Guide to Having It All."

"I'm happy to pay a little more taxes if it means better education for our children," he said.
No one is stopping you, chump. Write a check. Donate your money.
We're also provided with this handy dandy photo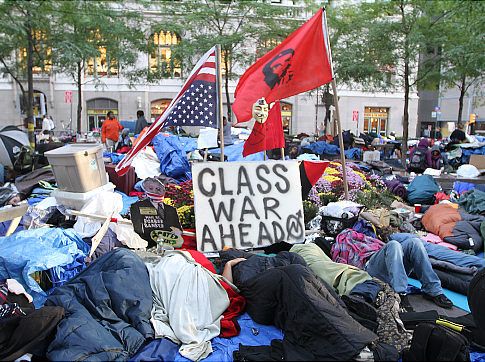 Upside down American flag? Check. Che flag? Check. Environmental destruction? Check. Trash everywhere? Check. Foolish use of Guy Fawkes mask? Check. Call for violence? Check.
Crossed at Pirate's Cove. Follow me on Twitter @WilliamTeach. Please sign the drill now petition
Trending on RightWingNews.com