Latest Lefty Palin Meme: Did She Get A Boob Job?
Proof once again that Palin scares the mule fritters out of the Left, starring Wonkette, consistently known for being the Star Magazine of the blogosphere
We got a political news tip on our Facebook page from Wonkette operative "Laura," and it goes like this: "Sarah Palin 12/09 no boobs http://bit.ly/bmQtPJ #Sarah Palin today, Instant boobage! http://j.mp/dokqd2 only her #plasticsurgeon knows4sure." We are not fluent in the Twitter-Facebook dialects, but somehow we can follow the gist.(snip)

And, having just now checked our tipster's hunch with another woman (also, coincidentally, named "Laura"), we can report with confidence that at least two people with experience in having breasts say that Sarah Palin sure looks like she was trotting out some new work at the horse races on Sunday. Oh, you didn't know the Palins frequent the horse races these days, with their own racehorse, named "First Dude," and that it competed "at the 142nd Belmont Stakes, the final leg of racing's Triple Crown"?
I'm sure that, somehow, this disqualifies her for public office and/or to be a Conservative mainstay. Either way, true or not (personally, I'd say the apparent boobage increase has more to do with the shirt and the stance of ye olde hockey mom), she is still hot, and blows liberal chicks away.
Trending: The 15 Best Conservative News Sites On The Internet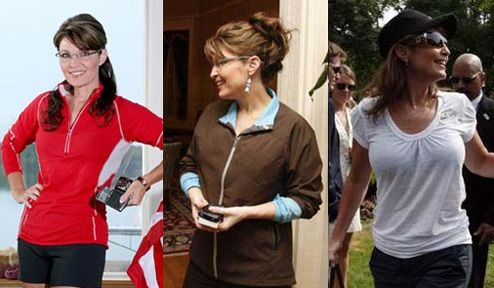 Crossed at Pirate's Cove. Follow me on Twitter @WilliamTeach
Trending on RightWingNews.com