NY Daily News Laments Trump's SC Win, Calls Him "Bloodthirsty", Voters "Piggish"
There are lots and lots of interesting articles regarding what happened in South Carolina, and Nevada, Saturday. We learned that Jeb! Bush has "suspended" his campaign. Hillary just barely beat out Sanders. And, that the NY Daily News is unhinged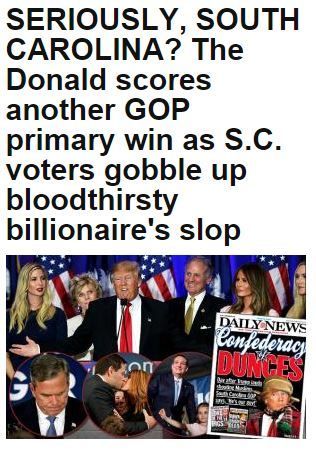 That's the headline graphic from the front page of the fishwrap. The headline within the article is a bit different
Donald Trump wins South Carolina Republican presidential primary
Trending: The 15 Best Conservative News Sites On The Internet
But, the story itself is a masterful piece of disgusting invective (bold mine)
The piggish voters of South Carolina gobbled up the slop that Donald Trump served up Saturday — handing the bloodthirsty billionaire his second straight Republican presidential primary win.

Trump's victory in the Palmetto State follows the orange-hued mogul's first-place finish in New Hampshire and capped a dizzying stretch in which he called rivals liars, tangled with Pope Francis, and retold a discredited story about a U.S. general shooting Muslims with bullets dipped in pigs' blood.

Just another typical week in the life of the candidate who can drop one outrageous bombshell after another and not lose a drop of momentum.

"There's nothing easy about running for president, I can tell you. It's tough, it's mean, it's nasty, it's vicious … it's beautiful," Trump said in his victory speech.
And, Trump supporters are fanatics for daring to chant "USA USA"
Some chanted "USA! USA!" The fanatics snacked on cheese and crudité, and sipped beers from plastic cups.
Sipping beer from a plastic cup? Love of the USA? How gauche!
Nihad Awad, the Council on American-Islamic Relations national executive director, said Saturday in a statement that Trump's "inflammatory rhetoric has crossed the line from spreading hatred to inciting violence."

But the hate-filled campaign speeches only endeared Trump to South Carolina voters.

Cruz, who topped Trump in the Iowa caucuses, said that his was "the only campaign that has beaten and can beat Donald Trump."
Yeah, wouldn't want to incite violence against people who are violent themselves and have no problem in blowing up women and children.
How dare those piggish South Carolina voters give Trump a win!
Crossed at Pirate's Cove. Follow me on Twitter @WilliamTeach.
Trending on RightWingNews.com