NY Times Is Concerned Over Trump's "Deep Danger For Legitimate, Aggressive Journalism" Or Something
There's deep concern that Donald Trump is undermining responsible journalism that will hold him accountable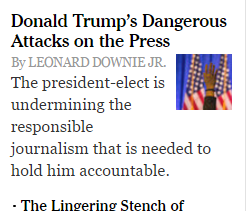 See?
(NY Times) If there was any doubt, the uproar this week over BuzzFeed's publication of unverified allegations about President-elect Donald J. Trump made clear that the gatekeeper role once played by major news media organizations has vanished in the digital age.

This poses a deep danger for legitimate, aggressive journalism, especially from the president-elect, who has been consistent in his heavy-handed demonization of any and all media whenever he dislikes critical but accurate stories about him.

BuzzFeed's irresponsible decision to publish a seamy and wholly unsubstantiated research dossier about Mr. Trump by a former British spy gave him the opportunity to attack not only BuzzFeed but also CNN, which had reported accurately about the document's existence but, properly, had declined to reveal its unverified contents. By conflating the conduct of the two news organizations as examples of the growing menace of malicious, digitally spread "fake news," he undermined the vigorous, accurate journalism that is necessary to hold him and his incoming administration accountable.
Got that? It's Trump's fault that Buzzfeed was irresponsible, and that CNN decided to pile on and run with the totally unverified story, which pretty much every other major news outlet decided they wouldn't touch.
But, really, this is the same press that is suddenly interested in "legitimate, aggressive journalism," and "vigorous, accurate journalism", after 8 years of ignoring most things in the Era Of Obama, if not covering for them. The same press that failed to properly vet and cover Hillary Clinton. The same press that covers Republicans and Democrats much, much differently. The same press that is mostly in bed with Democrats. They can't have it both ways. They need to either do their jobs all the time, or quit and do something else.
And they've failed to learn the lesson that Donald Trump is not your standard politician, and has no problem calling the Credentialed Media out, and using the New Media to get his message directly to The People.
At a time when the president-elect is trying to make major political changes in a deeply divided country, he is encouraging the public not to believe reporting by responsible news organizations that are striving to hold the government accountable. He did the same thing during his campaign, rallying his followers against the "dishonest media" while at the same time feeding news organizations and the public distorted and unproven allegations about his opponents.
During the campaign, I had numerous interactions with Trumpites about the supposed "media being on the ballot" talking point. I said "come on, he's running against Hillary and the Dems, he has to act it or he'll lose." They said "no, the media is on the ballot!" They and Trump were right. One of the most recent polls shows that just 32% of Americans have a great deal or fair amount of trust for the news media to "to report the news fully, accurately and fairly." Some previous polls has that trust being much, much lower. The primarily leftist news media did this themselves. They can't blame Trump, who simply piled on.
Of course, the responsibility is not only Mr. Trump's. The news media must separate in the public mind responsible journalism from recklessly inaccurate and purposely false information disguised as news for profit or influence by charlatans. Raging against attacks by Mr. Trump and his allies on "the mainstream media" will not suffice. The news media must double down on fair but aggressive news coverage, including scrutinizing the practices of those who don't have the same standards.
Well, it's good to see that Mr. Downie, Jr., who was the executive editor for the Washington Post from 1994-2008, finally ends by acknowledging that the news media is at fault. But, where was this concern over the last 8 years? Where was this concern when the media was being heavily partisan while George W. Bush was president? Trust is earned. They've lost it. They won't get it back by suddenly being interested in doing their jobs against Trump and his administration.
Crossed at Pirate's Cove. Follow me on Twitter @WilliamTeach.
Trending on RightWingNews.com