Good News: Estimates Show Double The Obamacare Enrollments Into Medicaid/SCHIP
The Washington Post's Sarah Kliff highlights the supposed "sign-ups" on the last day or something
The evidence we have so far – albeit limited – suggests that lots of Obamacare shoppers made it in just under the wire.

California estimates that 27,000 people picked insurance plans this past Monday and 29,000 the Friday prior. Just last week, the state was averaging 15,000 sign-ups per day. Washington state had 10,000 people enroll Monday, and a total of 20,000 from Dec. 20-23. That accounts for one in 10 Washingtonians picking private health insurance plans. And New York had about 20,000 sign-ups come in that same day.

Of course, these are only the three states we know about. The 36 states on HealthCare.gov do not release data on their own schedule but rather rely on the federal government's monthly data sets. We won't know December enrollment numbers until sometime in the middle of January.
Trending: The 15 Best Conservative News Sites On The Internet
Of course, those numbers are simply people who picked plans. We have no idea how many have done something crazy like pay for them. I'd be surprised if we learn the actual numbers of people who've paid for the plans before the end of March. Or, perhaps, the day after the mid-terms in November. Anyhow, this is what really caught my attention
Charles Gaba has been going to painstaking efforts to show the trajectory of health law sign-ups over the past three months. His graph (which is better viewed here, on his Web site) gives a helpful visual sense of what the last month has looked like for health-care enrollment. This uses all available data, including the monthly, federal reports and more up-to-date state data, too.
Here's what the graph looks like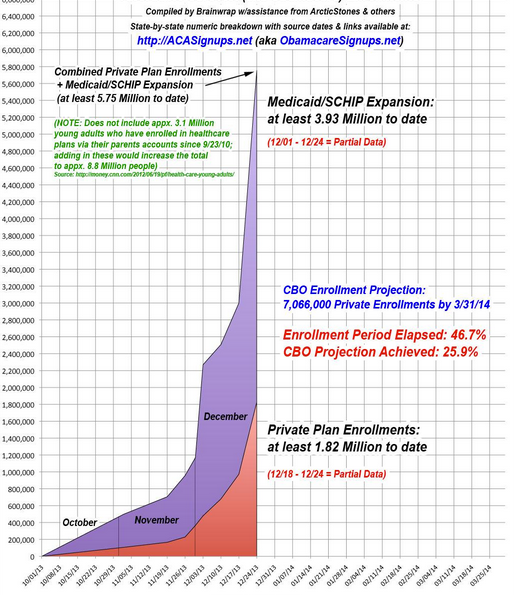 So, 3.93 million moved into Medicaid/SCHIP, aka, government programs, versus 1.82 million into private plans, which are currently running at 26% enrollment. This is the definition of "success", putting most signups, many who had private insurance previously, directly under the banner of government programs.
Crossed at Pirate's Cove. Follow me on Twitter @WilliamTeach.
Trending on RightWingNews.com