New ACA Ad Uses Sister Of High Ranking DHS Official For Sob Story
Everything in Liberal World is a sob story, meant to tug like Mastiff with a sock on the heart strings in some form or fashion, regardless of the damage Democrat policies do
(Daily Caller) A bright-eyed young woman featured as a happy participant in an ad for the government's new Obamacare exchanges is also the sister of a high-ranking Obama administration health official.

"Have you met Alejandra?" asks a site run by the Department of Health and Human Services.

Alejandra is looking forward to college and needs insurance, according to an ad on Healthcare.gov, which is managed by the U.S. Centers for Medicare and Medicaid Services (CMS). Alejandra "plans to become a health professional — just like her big sister Mayra…And like millions of young adults across the country, Alejandra does not have health insurance," according to the ad, which is being sent out via email by the federal government. "She used to pay $300 for a checkup that will now be covered in the Marketplace."

Trending: The 15 Best Conservative News Sites On The Internet

"Alejandra paid $300 out of her own pocket for a checkup and some shots that she needed for school," said Alejandra's sister Mayra, who is featured in the ad.

However, the ad does not disclose that Mayra Alvarez is the director of public health policy in the Office of Health Reform at the Department of Health and Human Services (HHS). Alvarez previously served as a legislative assistant on health issues for Democratic Sen. Dick Durbin.
Strange, why did she not stay on her parents insurance plan? That would have been allowable even before the "Affordable Care Act". And we should call it the "Affordable Care Act", in quotes the way "climate change" is in quotes, in order to highlight just how unaffordable it is. That checkup would be covered by the ACA, however, Alejandra will be required to purchase health insurance, and will pay, on average, 62% more for a plan through an Exchange than if she purchased it previously on her own (99% more for men). The average cost for a plan is $328. Of course, as a young person, Alejandra should understand that the "Affordable CA" is set up to stick it to her and others in her age group. So now, instead of paying $300 for a checkup once or twice a year, she can pay way more than that all year long. Or have pay a fine/tax. And, fortunately, her choice of doctors will be limited. And she'll have to wait in long lines to see a doctor.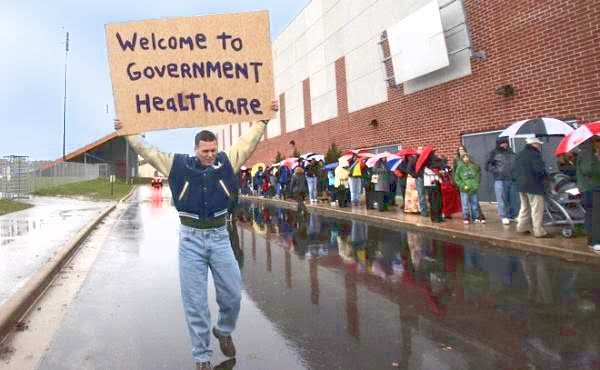 Crossed at Pirate's Cove. Follow me on Twitter @WilliamTeach.
Trending on RightWingNews.com