Pelosi, Kerry, Blow Off Memorial Day For AGW Talks In China, Human Rights Not An Issue
One of the few things I liked about Nancy Pelosi was her strong condemnation of China for the 1989 Tiananmen Massacre. But, hey, when it comes to human induced global warming, human rights go right out the window
For the second time this year, a top U.S. official visiting China has declined to publicly discuss Beijing's human rights record, a shift in practice that comes almost exactly two decades after the Tiananmen Square massacre.

House Speaker Nancy Pelosi, who angered Chinese authorities in 1991 when she unfurled a banner memorializing those who died in the square, arrived here saying that she planned to discuss only climate change.

In February, Secretary of State Hillary Clinton, traveling to Beijing, drew criticism from human rights activists by saying that pressing China on that issue "can't interfere with the global economic crisis, the global climate change crisis and the security crisis." On matters such as greater freedom for Tibetans, she said, "We pretty much know what (Beijing is) going to say."
Trending: The 15 Best Conservative News Sites On The Internet
Some are saying she took this trip to escape from the issue of her accusing the CIA of lying to Congress, something Madame Speaker now has refused to discuss further. (Insert talking points regarding transparency and the most ethical Congress EVAH! here.) Could be, but something like this is usually planned months in advance, at least. However, there might be something to it, since she doesn't even know who she is going to meet when it comes to AGW (she is going to meet with her counterpart, Wu Banggua, at some point)
Pelosi was expected in the Chinese financial hub mid-afternoon (Sunday), Susan Stevenson, a spokeswoman at the US embassy in Beijing, told AFP, but she was unaware of who the top US official was going to meet.
Hmm. Monsieur Kerry is also present in China, and he seemed to know who he was meeting.
Kerry was in Xi'an, the capital of the northern province of Shaanxi, on Sunday where he was holding official meetings and visiting the Terracotta Army archaeological attraction, Stevenson said.
Isn't it nice of the two to blow off Memorial Day in order to waste enormous amounts of fuel and put prodigious amounts of CO2 (well over 9.6 tonnes each) into the atmosphere. Of course, Kerry is well known for throwing his fellow soldiers under the bus. Now Nancy has done it. And she is staying till May 31. And then possibly returning for the June 4 Tiananmen Square anniversary. I wonder who is paying *cough*American People *cough* for their carbon offsets?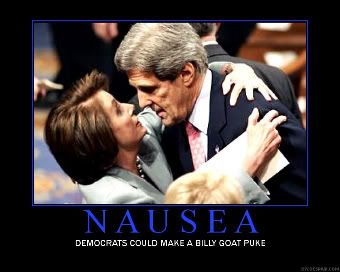 Trending on RightWingNews.com