At New Yorker: 'Clenched Fist' or 'Terrorist Fist Bump'
Cross-posted from American Power.
*****
What's with The New Yorker's November 15th cover drawing featuring incoming GOP House Speaker John Boehner standing with President Obama in the Oval Office? While Obama is clearly extending his hand in what appears as a reluctant bid for cooperation, Boehner's hand is gathered in a fist. Is that a bump? The New Yorker says so, but with reference to public opinion: "Cover Story: Approval Bump?" But should the administration expect a bump after last Tuesday's Democrat debacle? No, according to Ryan Lizza's article from November 5th. Not unless Obama backs off from his aggressive left-wing policy agenda.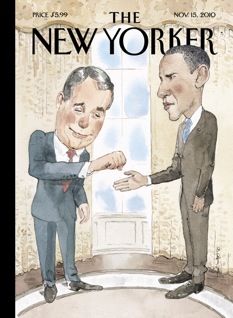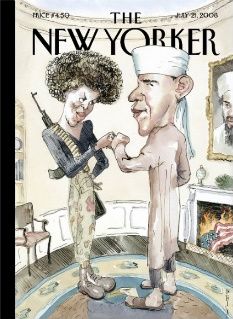 In contrast, Puff Ho's article is entitled, "John Boehner Gives Obama 'Terrorist Fist Bump' On New Yorker Cover." That's a clear retaliatory reference to New Yorker's July 2008 cover picture. Interestingly, though, the commentary at the essay suggests Boehner's extending the clench fist. Clearly, the title of the article was edited to maximize SEO and fever-swamp rage. Some folks at Puff Ho are still smarting at the image of Barack Hussein in Muslim garb:
In his inaugural address in January 2009, President Barack Obama promised a new era of diplomacy in foreign affairs. "To those who cling to power through corruption and deceit and the silencing of dissent, know that you are on the wrong side of history," he said. But, he continued, "we will extend a hand if you are willing to unclench your fist."

He didn't know that he might as well have been speaking to the Republicans.
*****
More great commentary and analysis at American Power.
Trending on RightWingNews.com