Happy Holidays vs. Merry Christmas
Many of my students, taking their final exams this week, have said goodbye with a warm "Holiday Holidays" farewell. And while that's very nice, I gave my last final this morning, and as I was handing out the exams I wished everyone "Happy Holidays," but added, "I celebrate Christmas at my house, and I'm not offended if you want to wish me a Merry Christmas."
In any case, more on that at Stamford Advocate, "'Merry Christmas' Without Apology":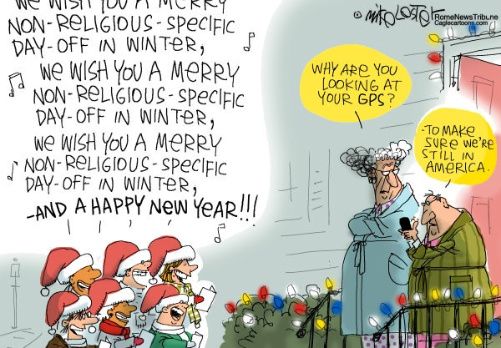 Has there ever been a more innocuous and vague holiday greeting than "Happy holidays?" For some reason — an unfounded fear of upsetting someone who does not observe Christmas? — that vacuous phrase is now heard more than "Merry Christmas," which used to be the only greeting you heard during the Christmas season.

I can understand using it when Hanukkah and the Christmas season coincide, as they did from Dec. 1 to 8 this year. But after that, I don't know of any other holiday we should be "Happy holidaying" about unless it's New Year's Day, a primarily stay-at-home holiday.

Trending: The 15 Best Conservative News Sites On The Internet

True, Christmas is the pre-eminent Christian holiday of the year. But let's face it: All of the trappings of the season — buying and decorating Christmas trees, playing and listening to Christmas carols and other "Christmas" music, decking the halls with wreathes, garland and mistletoe, sending and receiving Christmas cards and, of course, shopping — make the entire Christmas season a festive and joyous experience for almost everyone.
RTWT, at the link.
Plus, Rev. James Martin throws in the towel at PuffHo, "The War on Christmas is Over … And Christmas Lost."
Cross-posted from American Power.
Trending on RightWingNews.com