Say, Where's The Hashtag For Pregnant Christian Woman Sentenced To Death In Sudan?
I don't think I've actually chimed in about #HashTag diplomacy yet. I will say, it's not always a bad thing, if it is followed up with real world action. Alas, so much of the use of hashtags is simply to allow someone to say "hey, look at me, I Care!" And then move on.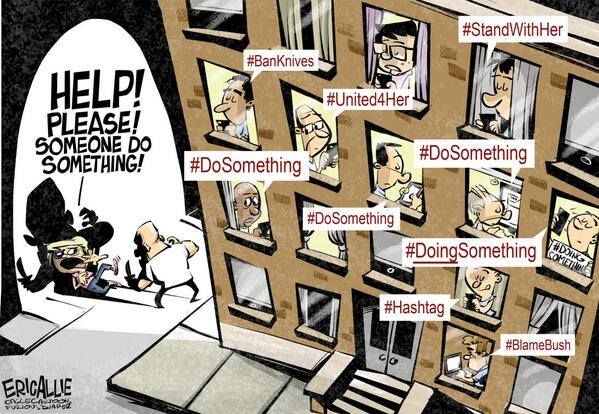 Found at Caveman Circus, one of my favorite sites. Which probably doesn't realize that this is making fun of liberals, including Obama, Michelle O, and all the others pushing hashtags like #BringOurGirlsBack and #StandWithUkraine, who fail to actually #DoSomething. Caveman Circus often posts pics favorable to gay marriage.
Where is the hashtag for this woman?
The woman, Mariam Yahia Ibrahim Ishag, brought her punishment of death upon herself, said Judge Abbas Mohammed Al-Khalifa: "We gave you three days to recant but you insist on not returning to Islam."

"I sentence you to be hanged to death." For good measure, Judge Khalifa ordered the woman to be beaten with 100 lashes of the whip before being hung for "adultery."
The whipping will occur right after the birth. The hanging will occur once the child is weened. It's adultery because there can be no marriage to a Christian man (according to Sharia law, even though she is not married to anyone else). Ace makes an interesting observation
I'm not hearing anything about this story except from right-leaning sources.

We have, once again, an incredible outrage, barbaric, dehumanizing, and fascistic, but the "Villains are wrong." The villains aren't the villains the left prefers.

Ergo, the outrage must be tacitly permitted.

Has the State Department even taken the drastic step of issuing a vigorous #Hashtag? A search did not disclose that any #hashtag activism had been undertaken.
Checking the State Department Twitter feed, no, they still haven't. They haven't even mentioned this at all. The husband is a US citizen. So is his son. Who must stay in jail with the mother, because the father, again, a Christian, is not allowed under Sharia law to retain custody of the child. Allahpundit
Punishing her for her faith is as clear-cut a human-rights violation as exists. And yet, nothing on social media from State or the White House, which has been only too happy to showcase their well-meaning impotence for a good cause over the past few months.
There's nothing about this on John Kerry's Twitter feed, either.:  Fortunately, though
.@JohnKerry: US will continue to protect, promote #humanrights of #LGBT persons this day & every day. http://t.co/JDPPyjWfKo #IDAHOT

— Department of State (@StateDept) May 16, 2014
Maybe she should say she's bisexual, and the US State Department, Team Obama, Kerry, and liberals would care. Instead, she's going to be brutalized and murdered by Islamists. Liberals were Very Concerned over jihadis being "tortured" at Gitmo, ie, hot and cold conditions, music by Christina Aguilera. Yet, do not seem to get worked up about Muslims doing things like whippings.
Trending on RightWingNews.com