Woops! 2001-2010 The Snowiest Decade
Anthony Watts catches an interesting study
Now that we have reached the end of the meteorological winter (December-February,) Rutgers University Global Snow Lab numbers (1967-2010) show that the just completed decade (2001-2010) had the snowiest Northern Hemisphere winters on record. The just completed winter was also the second snowiest on record, exceeded only by 1978. Average winter snow extent during the past decade was greater than 45,500,000 km2, beating out the 1960s by about 70,000 km2, and beating out the 1990s by nearly 1,000,000 km2. The bar chart below shows average winter snow extent for each decade going back to the late 1960s.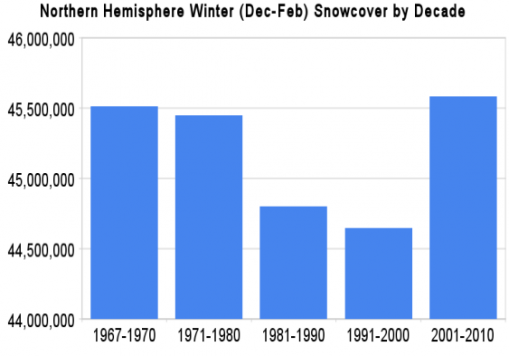 I'm not sure I can agree that it is the snowiest on record, except as far as the study goes, since the record is only show back to 1967. That said, our alarmist friends are always saying that one snowstorm (we had snow again here in North Carolina yesterday and overnight) and one year do not a climate make. How about a decade that beats a time period when the major media was concerned that a new ice age was coming?
Trending: The 15 Best Conservative News Sites On The Internet
OK, let the head in the sand snow denial begin! We really need to help our alarmist friends get past that first stage of grief, move them into anger, so we can soon get them to acceptance.
Crossed at Pirate's Cove
Trending on RightWingNews.com