'Party of the People' Hides from Them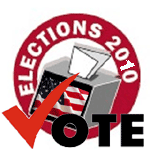 Remember those hoary days of yesteryear, those days when Democrats puffed themselves up as "the party of the people," of that "party of the common man"? Flash forward to 2010 and we find that those stalwart homespun congressmen, born of the people have set a policy to avoid those "people," the voters, at all costs. This summer break instead of coming home to visit with constituents and hearing them out at traditional townhall meetings that are usually held by members of Congress returning home, today's Democrats are skulking into town quietly and once home refusing to hold such meetings where they can see their constituents.
So much for the "party of the common man," eh?
In fact, Democrats have turned so cynical that Republicans are the ones having more townhalls than members of the majority governing party in Washington.
What are democrats doing instead of holding townhalls where they can hear from their constituents? They are having tightly controlled meetings where crowds are by invite only, they are holding events in constrained spaces where only a few voters can attend, or they are dealing only by phone-meetings where Democrats can use that "democratic" technology of the mute button! Even the New York Times has noticed that Democrats are in hiding.
Trending: The 15 Best Conservative News Sites On The Internet
Unlike Democrats, this very weekend and in weekends upcoming, in fact, Republicans all across the country were and will be holding townhall meetings to hear directly from the voters. One of the things that the GOP is trying to interest constituents in is their web-based, user generated suggestion box called AmericaSpeakingOut.com.
So, not only are Republicans meeting face-to-face with their constituents, they are also trying to reach them via the Internet with a webpage asking voters to contribute their own ideas to help guide the GOP leadership as they craft the 2010 message ahead of the upcoming midterm elections.
I, myself, attended a townhall held by my local congressman this weekend (see report here). It was exceedingly good to see my congressman, Republican Peter Roskam, face-to-face.
It is sad to think that I have been lucky enough to get a chance to meet my congressman, to shake his hand and presented with an opportunity to talk to him directly.
Too bad no one from the "party of the people" is offering that opportunity to their own voters.
Trending on RightWingNews.com