Republican Leads to Take Obama's Old Senate Seat, Could ALL The Dem Leaders Fall?
-By Warner Todd Huston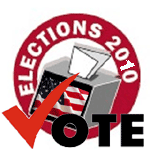 Rasmussen is reporting that GOP candidate Mark Kirk is currently leading Democrat Alexi "the Mob Banker" Giannoulias in the race for Barack Obama's Illinois Senate seat but his isn't the only one.
Kirk now attracts 46% support in Illinois' race for the U.S. Senate, up from 41% in early April. Support for Giannoulias is at 38%, virtually unchanged from the previous survey but down from March, when he earned 44% of the vote. Five percent (5%) currently support some other candidate, and 12% are undecided.
Ouchie. Do you think it would be possible for a Republican (even one as liberal as Mark Kirk) to beat the Democrat's official replacement offered for Obama's Illinois seat? If a Republican took the president's old senate seat, this would be momentous.
And maybe the GOP could hope for a hat trick — or better — of Demo smack downs.
Rasmussen is also reporting that Senate Majority leader Harry Reid is down in Nevada. The GOP could eliminate the Democrat's top man in the Senate.
Additionally, Rasmussen finds that California's long-time Senator Barbara Boxer is only up two percentage points in her own House race in California. Could the GOP cut down a major California Democrat, too?
Then when we add Vice President Joe Biden's seat into the mix we see that Rasmussen is reporting that the Republican in Delaware is really swamping the Democrat that is looking to take Biden's old seat.
If the GOP took away long-time California Senator Barbara Boxer's seat, and Senate Leader Reid's seat, and the vice president's old Senate seat, AND the president's old Senate seat… well, I can't imagine what a rebuke to the Democrats this would be. It would be a smack down of historic proportions for the Party of the extreme left.
And there's one more little knife to stick between the shoulder blades into the Democrat's back. The House seat in Obama's Hawaii home might also go to a Republican even as it has had a Democrat holding it for decades. As it stands, Honolulu City Councilman and Republican Charles Djou is leading in Hawaii's 1st District.
Trending on RightWingNews.com