WOW, Democrat Jokes That Seniors Should Be Denied End-Of-Life Healthcare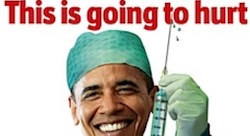 Democrat Gary McDowell is running to replace Bart Stupak (D, MI) in Michigan's First District and while he may be hoping he might get the votes of seniors coming to the end of their time here on this mortal coil, he sure seems reticent to give them the medical care they'll need to be around much longer after the election!
At a campaign appearance, McDowell agreed with those Obamacare supporters that think giving lifesaving medical care to seniors at end of life is a "resource" that needs to be rationed.
McDowell even makes a joke of the issue by saying that those that say end-of-life care should be rationed must be "from a safe district" because the "inconvenient truth" as he sees it is a tough pill to swallow.
Death panels, anyone?
Trending: The 15 Best Conservative News Sites On The Internet
Like a true Democrat McDowell thinks that setting up death panels should be swathed in less alarming language but that they should still be set up. "I was more diplomatic in not mentioning the end of life," he said to those gathered. Yet he still meant to talk about how we need to ration healthcare at the end of life because "as adults" we need to accept McDowell's "truth" that it's just too expensive to save grandma's life.
Let's hope that Michiganders vote for Doctor Dan Benishek instead of McDowell for Michigan's First.
http://www.benishekforcongress.com/
Trending on RightWingNews.com