The Bookworm Turns — an e-book with collected posts from the Bookworm Room
I started blogging in 2004, right before the election, and was hooked.  After years of churning out legal briefs, it was an endless pleasure to write about politics, pop culture, education, social issues, national security, the media, and whatever else caught my attention.  It was wonderful, too, to develop a new writing style, one that allowed me a type of word play and wit denied the legal writer.
My first year's posts were not memorable.  Over the years, though, after writing about 9,000 posts, ranging from minimalist ("Hey, check this out!") to lengthily analytical, I had polished my writing, deepened my knowledge base, and sharpened my analytical abilities.  By 2007, I really started to find my voice as a conservative writer and social observer.
As I've often told my readers, I will blog no matter what.  It's a compulsion and, fortunately, a pleasure too.  However, the challenge to try something bigger and more tightly organized than daily posts (which appear in random order as the news cycle demands or as my fancy strikes me) was too strong to resist.  Last summer, I started going through my old posts, culling wheat from chaff.  There was an awful lot of chaff but, thankfully, there was a fair amount of wheat too.
Eventually, I ended up with a few dozen of my favorite posts covering a broad range of topics:  The family history that shaped me; my thoughts about Big Government (I'm against it); the intellectual dishonesty of the Left; my problems with modern American public education (something separate from the good will of most teachers); my strong support for Israel, because I am a Jew, because she is a moral, democratic country, and because she is a staunch American ally; my deep dislike for Obama; observations about pop culture and the media; my strong support and admiration for our military; and several more topics, both profound and mundane.
Trending: The 15 Best Conservative News Sites On The Internet
I ended up with a book that runs about 100,000 words.  If you had it in hard copy, it would be uncomfortable to carry around.  Since this is an e-book, though, transportation is not an issue.  Additionally, because it's comprised of a series of essays, you can dip in and out of it at will.  In other words, you get a lot of bang for your buck (or, rather, your $4,99), with minimal inconvenience.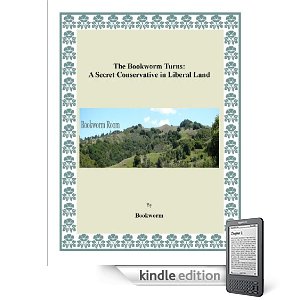 You can buy my e-book, The Bookworm Turns : A Secret Conservative in Liberal Land, at either Amazon
or at Smashwords.  If you want to buy through Amazon, don't worry if you don't have a Kindle.  You can easily download Kindle apps for smart phones, iPads, PCs or Macs.  Smashwords offers even more options for e-books, so check it out.  Also, if you're opposed to buying a pig in a poke, both Amazon and Smashwords allow you to preview about 20% of the book before you make up your mind whether to buy.
***
Here's what people have been saying about my writing:
"Bookworm has become one of my favorite bloggers. She lives in California and writes on intellectual and domestic political issues, always with a fresh angle."  — Barry Rubin
"Reading Bookworm's essays is like intellectual chocolate – highly addicting, except it expands your mind instead of your waistline!" —  JoshuaPundit
"I've been a follower of Bookworm for years and am reading the book now.  Her writing is thoughtful, smart, and always entertaining."  — Right Truth
"One of the best blogs out there is the Bookworm Room – no question. Trust me on this one – I have seen hundreds, maybe thousands come and go since I came online in 2001. I became friends with Bookie in an online forum years ago and I have voraciously read her posts at every opportunity. Witty, intelligent, reflective and often touching, her writings are what we all aspire to accomplish – a connection with others out there and a gift that we wield to express our thoughts in a manner that encourages others to do the same.  [snip]  Bookie has just put together an e-book on her posts that have occurred over time. It is some of the best writing you will ever read. Riveting and compelling, it is absolutely addictive."  — Noisy Room
"I've been reading the Bookworm's blog almost since she started. Her work is passionate, thoughtful, principled, and (at times) funny. She is an excellent writer – no big surprise as she does it for a living."  — E. Aagaard
"I just purchased your book. I haven't been able to put it down since downloading it last night. *** Thank you for such thoughtful, passionate and elegant writing, and for putting it out there in book form." — Another secret conservative living in the deep blue.
"Yes, I'm 12% in already, have highlighted several passages, and am thoroughly enjoying it.  Woo-hoo!"  — elc
"Bookie is a friend but that's not why I am recommending this read. I am recommending it because it is an interesting look into the world of a San Francisco Liberal who found conservative values.  That is exceptional enough to deserve your attention."  — Pierre's Pink Flamingo Bar
"I got it and I am enjoying reading it very much!  Congratulations!"  — D Wheeler
"I am working my way through my Kindle copy and savoring every word. Very entertaining and easy read with great personal narratives. It entertains, illuminates and instructs but does not hector.  I shall put this on my Christmas list for my Lefty friends."  — Danny Lemieux
"I am reading Bookworm's book on my Kindle, it's not only intellectually exciting, but relevant to today's news!! And at only $4.99, priceless!!! Get it!!"  — Anonymous
Cross-posted at Bookworm Room
Trending on RightWingNews.com