Obama Uses July 4th Weekly Address To Say How Great Michelle Is
One would think that the occasion of Independence Day being Monday, and everyone celebrating through the weekend, might lead Obama to note the greatness of the United States. Alas, no. He does give a few kudos to the military folks, but, they seem mostly to be a prop for saying how great Michelle Obama and Jill Biden are
Weekly Address: Serving our Military Families This Fourth of July

Hi everybody, and Happy Fourth of July weekend. On Monday, Michelle, Malia, Sasha, and I will celebrate the Fourth like most of you – in the backyard. We'll hang out with family and friends, throw some burgers and dogs on the grill, and watch the fireworks show. (snip)

For the past five years, Michelle and Dr. Jill Biden have tried to follow the example of so many of those Americans with their Joining Forces initiative. They've rallied businesses to hire more than 1.2 million veterans and military spouses, and helped reduce veteran homelessness. And just this week, Michelle and Jill announced a breakthrough on a concern they've heard again and again from the military spouses they spend so much time with – and that's the issue of professional licensing. (snip)

It didn't make any sense. So we changed it. When Michelle and Jill took up this cause five years ago, only three states had taken action on military spouse licensing. But they rallied governors and state legislatures to action. And this week, we reached a milestone. Today, all fifty states have acted to streamline many of these licensing issues.
There's no doubt they helped with the issue, which changes the way military spouses are licensed when they move from state to state, as so often happens with the military. This makes it easier for them to get their full licenses back quickly and get a back to where they were with their job track. Good for them! Kudos to Jill and Michelle. However, is it necessary to essentially make it all about Michelle and Jill? Because that's what this is about. Sure, he says some nice things about the military, but, they are props, they are background for the congratulations to Jill and Michelle.
Obama tells people to go to JoiningForces.gov. What do you see right at the top?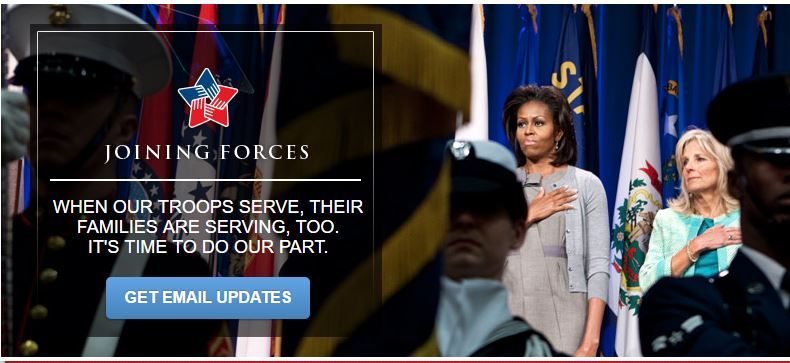 Our Founders fought and died a couple hundred years ago so we could end up with this buffoon. On the bright side, at least he has not made it All About Barack. I'm sure there's time for a narcissistic photo, though.
Crossed at Pirate's Cove. Follow me on Twitter @WilliamTeach.
Trending on RightWingNews.com